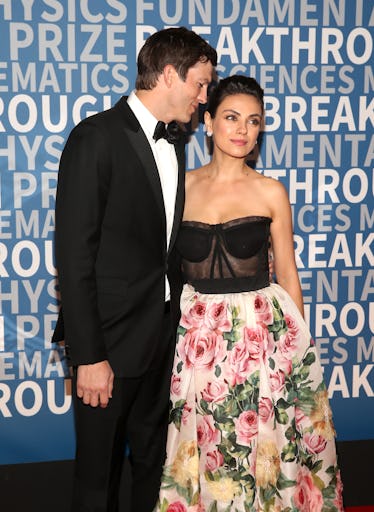 Mila Kunis Says She Had A Near-Death Experience On Her Honeymoon With Ashton Kutcher
Jesse Grant/Getty Images Entertainment/Getty Images
Honeymoons are meant to be all about relaxation, tranquility, and indulgence for you and your new spouse. You just threw the biggest party of your lives and committed yourselves to each other in front of your closest friends and family — you deserve to chill. But of course, there are some honeymoon nightmare stories that you hear about: the hotel you're supposed to stay at floods the week before; your partner gets sick with the stomach bug not even 24 hours in; it rains every day that you're vacationing. We hear those stories all the time from acquaintances, but apparently, it happens to celebrities, too. If you don't believe me, just wait until you hear Mila Kunis and Ashton Kutcher's honeymoon story — you're going to find it hard to believe.
On Tuesday, July 31, Mila Kunis visited The Tonight Show with Jimmy Fallon and recounted the story of her honeymoon with husband Ashton Kutcher. Now, I assumed that she'd tell the audience glorious tales of snorkeling in Bora Bora or sitting on a beach in Seychelles sipping a mojito, but LOL, nope. Would you believe that her honeymoon was a road trip? In an RV? With their 10-month-old daughter? And with her in-laws?
You'd think that Mila is joking with us here, but she's not. And the story only gets worse from here on out.
"Our honeymoon was like a real-life National Lampoon's honeymoon. I'm not exaggerating," she told Fallon. "I'm not saying it for a laugh. We also went honeymooning with my in-laws, in an RV that I got my husband for his birthday."
Not really off to a good start, but let's keep this thing moving.
"So we're in our little tin can on wheels and my in-laws are in what my husband coined as the Taj Mahal of RVs," Kunis continued, adding that they were with their 10-month-old in their "tin can."
She then goes into detail about what happens not even one full day into their RV honeymoon:
Eight hours into our RV trip, and this continues, our air conditioner breaks in Bakersfield in 110-degree weather. We almost died on the side of the road when Apple Maps took us on a road … It wasn't a road, it was a fire road on the side of a mountain. We all had to jump out of the vehicle and walk for like, three miles while my father-in-law drove the van and Ashton navigated him over gigantic boulders because there had just been a massive flood. Guys, this was like, day two.
But don't think that's the end of her honeymoon saga.
"My wonderful, beautiful mother-in-law picked the RV parks that we were staying in, but she didn't use the internet. She used, um, books," Kunis continued. "She's like, 'We'll end in Napa, it'll be beautiful,' and I was like, 'You know what, what could go wrong?' Lemme tell you. An RV park not in Napa, but an hour outside of Napa with two prisons, okay?"
That's when she and Ashton decided to call it.
"Yes guys, that is where our RV trip ended. And my husband looked at me and goes, 'I quit,' and I'm like, 'Me too,'" she shared.
Um, can you even blame them? Not only does that all sound scary AF, but they also have their CHILD to worry about, and not just themselves. I'd have booked it out of there as soon as the AC broke, if I'm being honest.
You can watch Kunis erm, reminisce, about the whole thing below:
Despite the fact that Mila Kunis and Ashton Kutcher's marriage is goals, this story is proof that even the most perfect relationships have their share of bumpy (fire) roads.