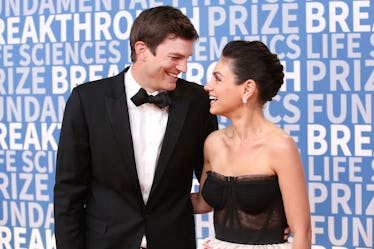 Ashton Kutcher's Sweet Quotes About Mila Kunis Will Make You Believe In Love Again
Jesse Grant/Getty Images Entertainment/Getty Images
Listen, getting emotionally invested in celebrity couples is a risky game. You never know what will happen, or if they'll last. But Ashton Kutcher's quotes about Mila Kunis make it very clear that love, in fact, is not dead. And if you're going to pick a celeb couple to root for, it should probably be them.
More so, Kutcher's sweet words about his wife of three years are exactly what you need to warm your cold heart. Because sometimes, it can seem like love is dead. Harsh, but when you look at all the stellar celeb couples who have broken up recently or remember what happened on the last season of The Bachelor (when Arie Luyendyk Jr. suddenly broke up with his fiancé on television) the state of romance in America can start to look pretty bleak. Enter: Kutcher and Kunis, who have been married since 2015, but have been together for about six years now and share two adorable kids together, according to E! News.
Kutcher and Kunis' love story is really quite extraordinary. When they first met on the set of That '70s Show, E! News reports that Kunis wasn't exactly interested in Kutcher, and even when he helped her with her homework (ah, to be young), she wasn't feeling it.
Then, after Kutcher ended his six-year marriage to Demi Moore, and Kunis broke up with her boyfriend of eight years, Macaulay Culkin, the two became even better friends. What's more, they actually tried to mirror their respective characters from their movies, No Strings Attached (which Kutcher starred in) and Friends With Benefits (starring Kunis), and have a casual relationship. Kunis explained their failed attempt at mirroring their movies to Howard Stern on his radio show. But obviously, they couldn't just be friends who hook up, so they eventually formed a relationship.
So, how did they get to where they are now? And just what has Kutcher said about his love for Kunis? Well, it's just as romantic as you thought it would be.
On Their First Kiss
Because Kutcher and Kunis were costars and love interests on That '70s Show, the two had to kiss. For Kunis, who was a mere 14 years old at the time, kissing Kutcher was doubly nerve-wracking, as it was her first kiss ever, according to People. And in 2012, when the pair opened up to the magazine about what that was like, Kutcher admitted that he was probably even more anxious than his now-wife, telling the magazine:
I was so nervous. She acted so cool. She seemed as if she'd done it a thousand times. I was the one with the butterflies in my stomach.
So clearly, even though they didn't instantly get together, there were sparks in the beginning.
On Valuing Privacy In Their Relationship
Now, one of the most interesting things about Kutcher and Kunis' relationship and their life together is that they keep it pretty private. Kunis steers clear of social media altogether, and Kutcher doesn't post all that often. Additionally, they like to keep their kids out of the public eye, as well.
So, it makes sense that, back in 2013, when their relationship was just starting to heat up, Kutcher made it clear that they wanted to keep it between them, telling Elle:
And I've learned that there are a lot of things in your life that really benefit from being private. And relationships are one of them. And I am going to do everything in my power to have this relationship be private.
Even though fans would probably love to know every detail of their relationship, it's nice that Kutcher values it so much that he wants to protect it.
On The Sexism His Wife Faces
Unfortunately, sexism is still alive and well. And for most female celebrities, that means answering vapid questions on the red carpet. So, when Kutcher spoke about how awesome his wife is in 2015, he also touched on the fact that she has to deal with being treated like less than, which he was so not cool with. According to People, Kutcher said of interviewers who ask the actress what she's wearing:
I prize her as the most valuable person in the world to me. You have a chance to sit with Mila Kunis and that's what you ask her?
And honestly, he's got a point.
On Their Secret Wedding
In keeping with their tradition of privacy, Kutcher and Kunis' 2015 wedding was totally secret. So, when he revealed the details on Ellen, it was a big deal. In his interview with DeGeneres, Kutcher made it clear that he values Kunis above all else. In the video, he explained:
Yeah. It was a ninja effort. We really didn't want helicopters at our wedding and it's a legitimate concern. So we ... I was like posting things on social media that were in different locations to avoid... we didn't want to be, like, screaming our vows at each other.
If he is willing to go through that much effort for his wife, then there's no doubting that their love is real.
On Their Sex Life
OK, so obviously, Kutcher didn't discuss the actual details of his and Kunis' intimate life together. But, he did say something to People in 2015 that was just so completely short, to the point, and unexpectedly sweet: "I get to have sex with her, it's amazing."
It might not be a Shakespearean sonnet, but it's still quite lovely. And no matter how you look at it, Kutcher's love for Kunis extends well beyond the realm of words. So as heartwarming as his quotes are, they're really just the beginning of his love for her.
Check out the "Best of Elite Daily" stream in the Bustle App for more stories just like this!