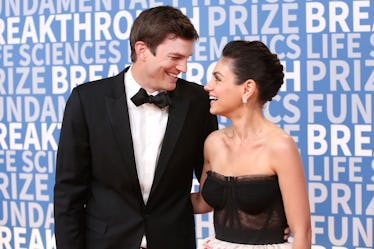 This Is How Mila Kunis Knew Ashton Kutcher Was The One & It's Literally A Rom-Com
Jesse Grant/Getty Images Entertainment/Getty Images
You know the fairytales you were read growing up? The plots of the Disney movies you watched, where falling in love is portrayed as an end-all-be-all, and miraculously occurs the moment the two protagonists set on eyes on each other? That is so totally not the story of how Mila Kunis knew Ashton Kutcher was the one — and we're 100 percent OK with that. Their love story is less of a storybook and more of a romantic comedy, but it's magical just the same. And don't worry: The two seem to be getting their happily ever after.
The two first met as actors on That '70s Show, when Kunis was only 14 years old and Kutcher was 20 years old. Since the two were cast as a couple, things got intimate real quick. As in, they were playing tongue twister before they basically even knew each other. But their onscreen romance only developed into a solely platonic friendship. "In the show we kissed with no feelings whatsoever," Kunis stated on Marc Maron's podcast "WTF." The two took 'just friends' to a whole new level.
But even after the show ended in 2006, Kunis and Kutcher spent over a decade in different relationships. Kunis went on to date Home Alone actor Macaulay Culkin for eight years, until the two called it quits in 2011. Although little is known about the couple's split, Kunis recently revealed on Dax Shepard's podcast "Armchair Expert" that she was primarily responsible. "I was an assh*le in my 20s and I'll be the first to admit it," Kunis explained. Perhaps this means that if she and Kutcher had begun dating right after the show's series finale, the actress might not have been emotionally mature enough to maintain their relationship. The timing just wasn't right.
Meanwhile, Kutcher wed actress Demi Moore in 2005 after dating for two years. Kutcher also reportedly became a father figure to Moore's three teenage daughters, despite only being about 10 years their senior. The two remained married for eight years, before filing for divorce.
So, for the first time in eight years, both Kunis and Kutcher were single at the same time. Did they immediately start a whirlwind love affair, the stuff of romance novels? Nope! But still, there was that spark of attraction. According to Kunis, the two found themselves backstage an awards show, where the actress found herself unknowingly checking her old co-star out. "I was literally, like, 'Ooh, he's kind of hot,'" Kunis told Maron. "And then he turned around, and I was like, 'Oh, my God! It's Kutch!'"
They say life imitates art, and that certainly became the case for these two. Acting on what, at first, appeared to be purely physical attraction, the two began hooking up. Ironically, Kunis was cast in a movie called Friends With Benefits, while Kutcher was similarly given a leading role in No Strings Attached (both released in 2011). If you believe in signs from the universe, this had to be a tough one to ignore.
Surely enough, much like their characters, the two began to catch feelings for each other. Kunis claims she was the first to freak out and call it off — concerned that their sexual relationship and emotional connection would come in the way of their decades-long friendship. Kutcher agreed.
But Kutcher has been in Hollywood for so long, that he seemingly knew it was time for a grand romantic gesture. Swoon. The very next day, Kutcher showed up at Kunis' door, and asked her to move in with him. And scene! Cue the credits.
For these two, love didn't come easy: It took them years to truly see what was right in front of them. But in true rom-com fashion, despite the tangled-up twists, this couple beat the odds and ended up in each other's arms. Now that's a modern love story that I can get behind.
Check out the entire Gen Why series and other videos on Facebook and the Bustle app across Apple TV, Roku, and Amazon Fire TV.
Check out the "Best of Elite Daily" stream in the Bustle App for more stories just like this!