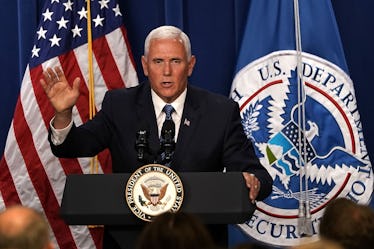 Mike Pence Weighed In On The Supreme Court & Abortion Rights & It's Not Reassuring
Alex Wong/Getty Images News/Getty Images
Mike Pence is not exactly a feminist dreamboat. The vice president is already known for his right-wing, anti-abortion views, and apparently, nothing has changed since he took office. Mike Pence's comment about abortion and the Supreme Court is just what we've come to expect from the vice president — namely, troubling.
On July 9, President Donald Trump announced his choice to fill the upcoming vacancy on the Supreme Court bench, tapping D.C. Circuit Court Judge Brett Kavanaugh to sit on the nation's highest court. But even before the official announcement, people were worried about the president's pick, as Trump had frequently promised to appoint judges who were against abortion rights to the Supreme Court. "I am putting pro-life justices on the court," Trump said during an October 2016 debate before his election. He said that the court would then "automatically" overturn the landmark 1973 case Roe v. Wade, which guaranteed women the right to access abortion care.
And while Kavanaugh hasn't expressly promised to overturn that case, there are more than a few hints that reproductive rights advocates are right to be worried. Not least of all, what Vice President Mike Pence told CNN in an interview about Kavanaugh's nomination on July 10.
Pence started by saying that though he and the president were part of a "pro-life administration," and then continued on to wax eloquent about how Trump had thought only of nominating a judge who would uphold the Constitution and respect the law. At which point interviewer Dana Bash interrupted the vice president, to ask, "Do you still want Roe v. Wade to be overturned?"
"Well, I, I do, but I haven't been nominated to the Supreme Court," Pence answered with a little smile. Bash wasn't going to let that sit. She pressed,
Right, but you're part of an administration that campaigned, you and the president campaigned, saying you will find nominees to overturn Roe v. Wade. Will you be disappointed if he is given that opportunity and he doesn't?
"As I said, I stand for the sanctity of life. This administration, this president, are pro-life," Pence answered.
Ah, cool, that explains it all. Thanks for the clarification, Mike.
Pence isn't lying when he says that this administration has been "pro-life," though. Besides Trump's promise to appoint anti-abortion Supreme Court justices, the administration has also publicly aligned itself with anti-abortion groups and causes. Back in January, Trump was the first-ever sitting president to address the anti-abortion rally the March for Life, delivering a speech by satellite link from the Rose Garden at the White House.
And the administration has also promoted anti-abortion policies, including reinstating the Global Gag Rule in January 2017, which forbids U.S. foreign aid from going to organizations that "promote" abortion, which can mean as little as merely mentioning it as an option. And in April of that year, the president also signed a bill that allowed states to withhold federal funds from organizations that perform abortions, such as Planned Parenthood. It's all, sadly and unsurprisingly, in line with Pence's own stance, which is pretty blatant: the vice president once said that he would like to see Roe v. Wade "consigned to the ash heap of history."
And for those concerned, Kavanaugh's track record isn't reassuring, either. The new Supreme Court nominee was part of the federal court which weighed in on the right of an undocumented teenager in federal custody to access an abortion, in which he sided with the Trump administration in denying the girl an abortion while in government custody.
So what will happen to federal abortion rights? Well, that'll depend a whole lot on the person who ends up in the Supreme Court seat, whether it be Kavanaugh or someone else entirely. And in the meantime, don't forget to vote, vote, vote.