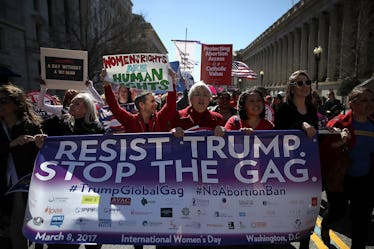 Trump's Global Gag Rule Is Already Having Devastating Effects After One Year
Justin Sullivan/Getty Images News/Getty Images
A major policy move President Donald Trump enacted in his first days in office is already having dire consequences on the global scale, one year later. In 2017, Trump expanded a long-standing policy about abortion and U.S. foreign aid that affects health services overseas. Now, a report by the Center for Health and Gender Equity (CHANGE) released Tuesday, June 5 reveals the impact that Trump's "global gag rule" expansion is having on critical health care services abroad.
I spoke with Serra Sippel, president of CHANGE, about the impacts of Trump's expansion. One year out, the effects are just now starting to fully take shape, and the outlook is bleak.
Trump formally reinstated the rule — formally known as the Mexico City Policy (MCP) — via an executive memorandum on January 23, 2017. The MCP originally banned foreign non-governmental organizations (NGOs) receiving U.S. funding from providing abortion-related services to patients, including information about their options. Introduced in 1984 under President Ronald Reagan, the rule has been in an on-again-off-again roller coaster since. Though the rule was rescinded under Democratic Presidents Bill Clinton and Barack Obama, each Republican administration that has reinstated it has upped the ante with more restrictions.
This is exactly what happened under Trump. In addition to reviving the version of the bill that was active under President George W. Bush, Trump ratcheted up the policy to include not just funding related to family planning and reproductive health, but all global health funding that the U.S. provided overseas.
The question I got from every place I went was, 'Why is the U.S. government doing this to us?'
Trump's expansion, the broadest yet, now covers all global health funding — $8.8 billion of it — including programs to address family planning, maternal and childhood health care, malaria, and HIV/AIDS; the CHANGE report also mentions nutrition, diseases, and hygiene. This is a huge jump from the $600 million in U.S. funding for family planning that the previous iterations of the MCP affected. The changes were rolled out on May 15, 2017.
"This policy really does impact the morale and how health care services are provided overseas," Sippel tells me in an interview for Elite Daily. Young women, children, and LGBTQ individuals, in rural communities especially, are particularly hard-hit by the expansion, according to CHANGE.
Because of how broad the new policy is, the report shows, organizations unrelated to abortion services are now having to scale back their operations or cease them entirely. The impacts extend to organizations funded by the President's Emergency Plan for AIDS Relief (PEPFAR), a policy instituted in 2003 under President George W. Bush to combat HIV and AIDS. Of the $8.8 billion in U.S. global health funding that the MCP rule applies to, about $6 billion goes to PEPFAR.
One of these impacted organizations is AMODEFA, a family planning NGO based in Mozambique, where, according to the PEPFAR official site, young women account for 74 percent of newly infected HIV patients. AMODEFA, which receives PEPFAR funding, is now facing a slash to its budget thanks to the rule's expansion. Per CHANGE, the organization will lose 60 percent of its funding and have to cut 30 percent of its staff because it can no longer comply.
Though the expansion was formally implemented on May 15, 2017, the expansion did not affect existing contracts with NGOs, only new ones, so it's taken some time for the results to begin to become apparent. But a year after implementation, the changes are significant. Between July and September 2017, as the CHANGE graph below shows, AMODEFA had provided HIV consultation to 6,799 clients in Mozambique's Xai-Xai region alone; from October through December 2017, that number had plummeted 88 percent, to 833. The clinic also had to shut down entirely a U.S.-funded program aimed at increasing access to reproductive health services for young women.
"The impact of this policy goes beyond reproductive health and family planning," Sippel says. "It's impacting HIV prevention services at a time when we're at a critical stage in the global AIDS fight."
The expansion is also projected to affect other aspects of women's health, given the link between family planning education and access to resources and mortality, abortion, and birth rates. An estimate by Marie Stopes International, a major global family planning organization the report cites, predicted that the impact of Trump's rule through 2020 would result in 6.5 million unintended pregnancies, 2.2 million abortions, 2.1 million unsafe abortions, 21,700 maternal deaths, and $400 million in direct health care costs.
Whereas large organizations like the International Planned Parenthood Federation (IPPF) decided not to comply with the rule change — willingly sacrificing their eligibility to receive that funding — smaller organizations might not have that luxury. These organizations face a dire dilemma: Stick to their ethics and risk their funding, or swallow the figurative pill and discontinue services to ensure funding for other critical needs. Either way, something's gotta give.
"It's really putting them between a rock and a hard place," Sippel says. "Either stop conducting abortion-related work or lose your U.S. funding."
Sippel says the MCP is a political football whose constant changes to the policy has left the global health community struggling to understand what's permissible with every new administration. The confusion alone has created a chilling effect, where local NGOs, out of confusion, fear of losing U.S. funding, or both, may shy away from providing services just to be safe. Even when it has been rescinded, Sippel says, the policy "has a residual effect — it doesn't just disappear."
Health care aside, the Trump expansion also has a broader impact on foreign relations. Local sentiment in Mozambique, where Sippel visited in January this year, was understandably negative. "The question I got from every place I went was, 'Why is the U.S. government doing this to us?'" Sippel says.
Other U.S. organizations doing work abroad in this area are not affected by the policy change, she explains, and can continue to receive U.S. funding; however, they rely on the local organizations to help implement these services. So both types of organization are necessary — yet only one is safe when it comes to funding. As a result, many locals viewed the Trump expansion as hypocritical, she says. "This is seen as a double standard."
As an executive rule, the global gag rule is the president's prerogative — Congress didn't have a say in Trump's decision to reinstate or expand the rule. However, it can pass legislation that effectively overturns the rule, though attempts to do so in the last year, by both House and Senate, haven't come to fruition.
CHANGE, like Planned Parenthood and other advocates, are calling on Congress to repeal the rule. But if 2017 was any guide, that's easier said than done.