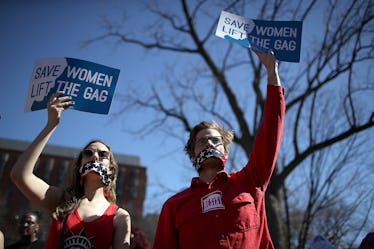 This Trump Abortion Rule Is Harming Women Around The World — EXCLUSIVE
by Nancy Northup & Anu Kumar
Justin Sullivan/Getty Images News/Getty Images
Nancy Northup is the president of the Center for Reproductive Rights, which uses the law to advance reproductive freedom as a fundamental human right that all governments are legally obligated to protect, respect, and fulfill. Anu Kumar is the interim CEO of Ipas, a non-profit dedicated to expanding global abortion access. In this op-ed, Kumar and Northup discuss the effects of the Global Gag Rule, which Donald Trump reinstated last January. The Global Gag Rule, which bans overseas organizations that receive U.S. funding from using their own money to provide abortion information, referrals, or to advocate for law reform.
Jan. 23 marks one year since President Donald Trump reinstated and expanded the Mexico City Policy, which bans overseas organizations that receive U.S. funding from using their own money to provide abortion information, referrals, or to advocate for law reform. The policy, also known as the Global Gag Rule, not only harms women and girls around the world, it disproportionately impacts countries home to mainly people of color. It embodies the "America First" ideological imperialism and reliance on strong-arm coercion that have shaped and defined this administration's first year.
Every Republican president since Ronald Reagan has implemented the gag rule, using foreign policy to bully countries on abortion for decades. Since 1973, global health organizations have been working under the Helms Amendment, an egregious policy that bans any U.S. foreign aid funds from being used for abortion services. This policy remains in effect, and the gag rule bolsters it. Despite the Helms Amendment, in recent years the global community has made progress in expanding access to reproductive health care, particularly safe abortion.
Under this policy, the U.S. has turned its back on the human rights of women and girls around the world.
Nepal reformed its archaic abortion law to grant women legal access to abortion in 2002, and in 2009, its highest court ruled that free abortion must be made available to low-income women. In Ethiopia, under a highly restrictive abortion law, half of pregnancy-related deaths in the country were due to unsafe abortion. The Ethiopian government relaxed the law in 2005, increasing access to safe abortion. In 2014, the Mozambique government, after seeing a high number of women and girls dying from unsafe abortion, liberalized its abortion law. Since then, significant progress has been made to ensure women and girls have access to comprehensive sexual and reproductive health services, including abortion.
It's easy to forget about the lives of women in faraway countries in your daily life, but these are women's lives at stake. This U.S. policy is actively harming women's health.
Trump changes everything. This administration's expanded iteration of the gag rule, which affects $8.8 billion in foreign aid, is even more discriminatory and dangerous because it is farther-reaching.
The rule acts by separating abortion from other health care, undermining efforts to provide comprehensive sexual and reproductive health services, including for diseases like HIV/AIDS. The policy also undermines efforts to combat maternal mortality — of which unsafe abortion is a significant cause — and puts the United States at odds with its allies who join the rest of the world in working to combat this.
This not only curtails free speech, it creates an atmosphere of confusion and fear that has a chilling effect on essential aid organizations and the broader reproductive health community in countries that receive a significant amount of U.S. funding.
For women and girls, the results of all this are devastating.
In a remote Busia county in Kenya, health clinic staff have taped handwritten signs reading, "Abortions are not performed here" on the clinic doors and walls because they fear they will lose U.S. funding.
In Nigeria, some community organizations have signed contracts with USAID without a clear explanation of the Global Gag Rule's restrictions, only to discover that programs they thought they could implement are not permitted.
We don't need a crystal ball to tell the future; here's what happens: Overseas organizations that choose not to sign the gag rule will lose U.S. funds and technical assistance from the United States or U.S.-funded organizations. Then, women and girls will be turned away from reproductive health care and be further stigmatized by a policy enacted by a government that is not their own.
Under President George W. Bush's administration, the Global Gag Rule prompted withdrawal of USAID funding from certain NGOs, and silenced others who wanted to push for abortion law reform. In Ethiopia, according to Ipas staff there at the time, many organizations were afraid to join the debate and political process around efforts to change the abortion law in the country. Free speech was curbed and coalition building was nearly impossible.
In Kenya, NGOs that were once vocal supporters of comprehensive reproductive health care for women abstained from debates on reforming the country's restrictive abortion law. And even supportive officials in the Ministry of Health were effectively barred from collaborating with gagged NGOs to bring about law reform.
The Global Gag Rule undermines fundamental human rights to life, health, equality, information, privacy, and expression. It silences advocates, stifles partnerships, and undermines local governments' ability to improve health outcomes for women and girls. Restricting abortion access does not stop people from seeking abortion care, it only makes the procedure less safe, ultimately contributing to maternal mortality. Under this policy, the U.S. has turned its back on the human rights of women and girls around the world.
Even in places where governments have chosen to liberalize abortion laws and prioritize access to safe care, the Global Gag Rule imposes U.S. ideology on organizations that are attempting to save the lives of their women and girls. This is abortion stigma ­— at the policy level and, indeed, at the highest level of the U.S. government.
Editor's note: This piece has been updated to reflect a joint byline.