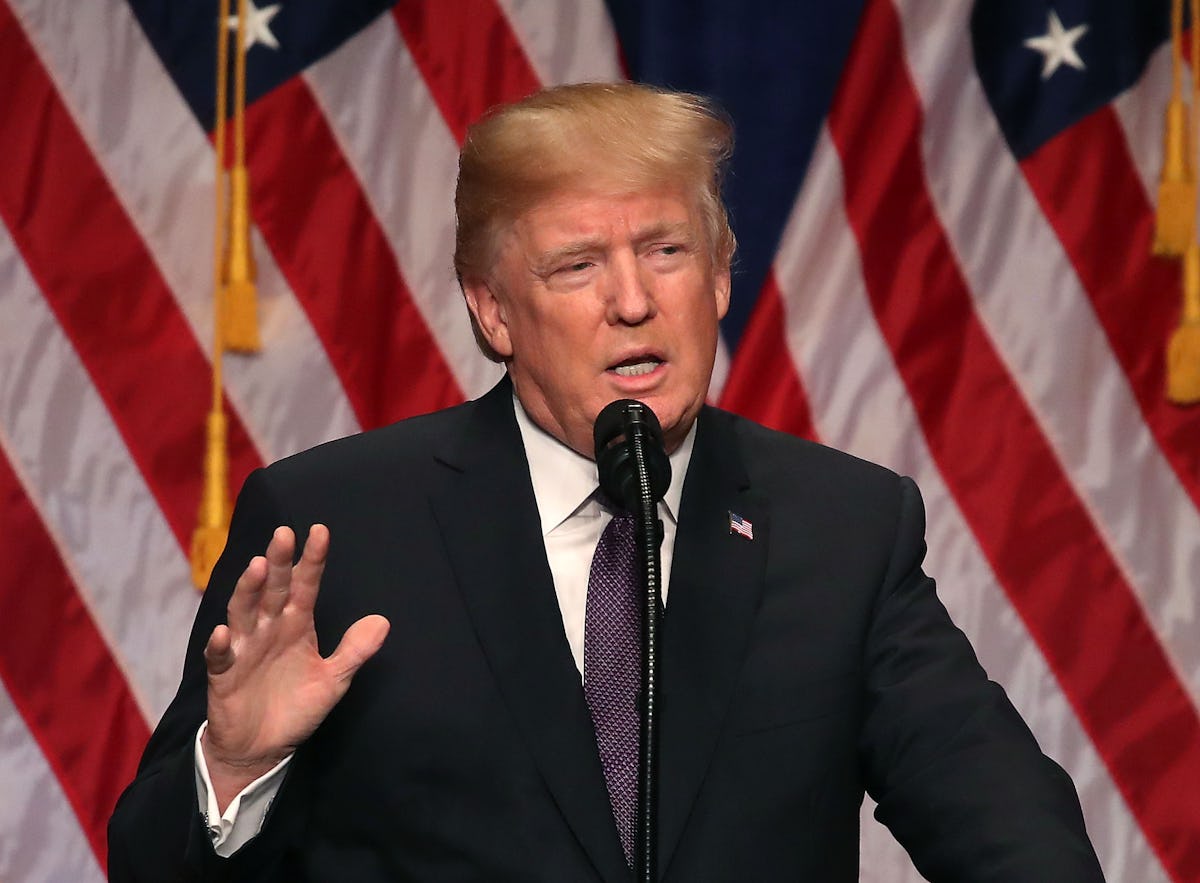 People Are Calling Out Trump's Pro-Choice Past Following A Major Pro-Life Speech
Mark Wilson/Getty Images News/Getty Images
President Donald Trump made remarks on Friday, Jan. 19 to kick off the March for Life, an annual anti-abortion demonstration. But Donald Trump's March For Life speech had one massive error. While he claimed that more Americans than ever are against abortions, research shows that the opposite is true.
"Today, I was honored and proud to address the 45th Annual @March_for_Life! You are living witnesses of this year's March for Life theme: #LoveSavesLives," tweeted Trump on Friday afternoon. The speech focused on his administration's work on the anti-abortion agenda in the first year in office and re-upping his commitment to it, making references to God several times.
Friday marked the first time a sitting president has ever spoken at the event, USA Today reports. While Presidents Ronald Reagan and George Bush W. Bush gave remarks, Trump is the first to do so in person. His decision to speak at the rally is making good on his campaign promise to take a hard line on abortion. But many people are calling out his comments, and not just on ideological grounds.
Speaking from the White House Rose Garden, he claimed that "Americans are more and more pro-life." Only one problem: That's the inverse of what's happened.
Most Americans support abortion in at least some cases.
"Seven in 10 Americans believe in allowing women access to abortion when they choose to," said NARAL Pro-Choice President Ilyse Hogue in a statement. "Yet, the anti-choice minority has been dangerously effective at pursuing their agenda of outlawing legal abortion and restricting access to contraception."
This is backed up by Pew Research, which found that 59 percent of Americans are for legal abortion in at least some cases, and 37 percent legality in all cases. While Gallup put that number slightly lower, at 50 percent, it found that the percentage of Americans who think abortions should always be illegal is the lowest it's been since 2013.
Put another way, Pew found that seven in 10 Americans oppose overturning Roe v. Wade. Any way you cut it, it's hard to see where he's basing that claim. (Please excuse me while I take my sad piece of chalk and add to the tally of factual inaccuracies made by the president.)
So, why did Trump claim that Americans are against abortion?
If only we could tell you. There's some ideas floating around, though. NARAL recently released a report that traces the connections between the Trump administration and the pro-life stances it has made clear in policy and reiterated by Trump's Friday speech. Referring to the pro-life movement, Hogue says in a statement, "We know that their influence is outsized relative to the popularity of their fringe agenda thanks to their highly coordinated, well-funded, under the radar work."
So, it's not totally clear why Trump made the claim on Friday that more Americans oppose abortions, but groups like NARAL have their hackles up.
Trump used to be pro-choice.
On Thursday, Vice President Mike Pence called Trump "the most pro-life president in American history." The statement was echoed by White House Press Secretary Sarah Huckabee Sanders and White House adviser Kellyanne Conway.
It may be a subjective statement, but it's hard to back up.
Trump described himself as being "very pro-choice" in a 1999 interview on NBC's Meet The Press. When asked what his stance on abortion would be if he were to run for president, he said, "I am very pro-choice. I hate the concept of abortion. I hate it. I hate everything it stands for. I cringe when I listen to people debating the subject. But I still just believe in choice. ... I am strongly for choice."
When the host pressed as to whether a potential President Trump would ban abortions, Trump said no.
The flip-flop didn't go unnoticed on social media. Users were calling out Trump's 1999 stances and his 180-degree change.
But that's not all. They also pointed out how Trump reacted when he found out about his fourth child. "Also just a reminder that when Marla Maples told Trump she was pregnant with Tiffany, his response was 'what are we going to do about this?'" wrote Brooke Rogers on Twitter.
Ellie Hall didn't let him off the hook for comments he made on the Howard Stern Show in 2004 in which he joked about Marla Maples having an abortion.
Despite his history with the subject, Trump's remarks on Friday were pretty clearly in support of the anti-abortion movement. What his historic speech means for the rest of his presidency — and the potential precedent he's set for future presidents — is much less certain.