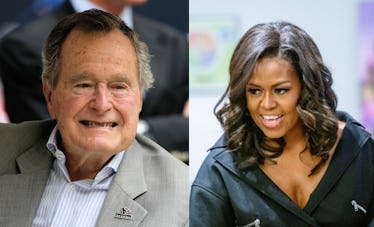 Michelle Obama Just Postponed Her 'Becoming' Tour For A Heartwarming Reason
Roy Rochlin/Getty Images News/Getty Images; Scott Halleran/Getty Images Sport/Getty Images
In the politically-divided time that is 2018, it's now even more unusual than ever to hold friendships across party lines. However, that hasn't deterred former first lady Michelle Obama from forging an unlikely camaraderie with the Bush family, and she has even referred to her husband's predecessor, President George W. Bush, as her "partner in crime." Michelle Obama postponing book tour dates for George H.W. Bush's funeral is a fitting tribute to her esteem for the man, despite their political differences, and her heartfelt Twitter announcement is the show of bipartisan respect that we're all craving in this day and age.
On Sunday, Dec. 2, the former first lady took to the social media platform to announce that in order to attend the late 41st president's official send-off this week, she'd be postponing her trips to Paris and Berlin to promote her new book, Becoming.
She wrote:
It's important to me to join the Bush family in celebrating President George H.W. Bush's exemplary life. This will unfortunately preclude my visits to Paris and Berlin. I've been deeply touched by the enthusiasm for my memoir, and I'm working to reschedule my trip for next year.
She continued, "I hope readers and ticket holders will understand my decision regarding my desire to attend President Bush's funeral, and join me in paying tribute to him and his tremendous contributions to our world."
Obama's announcement comes just one day after a heartfelt Instagram tribute, where the former POTUS can be seen kissing Michelle on the cheek.
"As a public servant, father, and grandfather, President George H.W. Bush was an extraordinary example for us all," Obama captioned the candid moment. "His spirit of service and decency will be missed by many, including our family. I hope his memory will be a guiding light for our country and those around the world."
Michelle Obama has made no secret of the fact that she shares an unlikely friendship with former President George W. Bush, and the internet went into full meltdown mode when the POTUS was spotted sneaking a candy or a mint to her during late Sen. John McCain's funeral.
The author later explained the moment during an October interview on the Today show. "[President Bush] is my partner in crime at every major thing where all the formers gather," she explained. "So we're together all the time, and I love him to death. He's a wonderful man. He's a funny man."
She continued, "That's what people are hungry for. Party doesn't separate us. Color, gender, those kinds of things don't separate us. It's the message that we send."
Meanwhile, President Bush previously said in a May 2017 interview with People, "[Michelle] kind of likes my sense of humor. Anybody who likes my sense of humor, I immediately like."
On Wednesday, Dec. 5, the state funeral for President George H.W. Bush will be held at the National Cathedral in Washington D.C. — a day that President Trump has designated as a day of mourning. According to the White House, President Trump and wife Melania Trump have already confirmed that they'll be in attendance, and now, it looks like they'll definitely be joined by the Obamas in paying their respects.