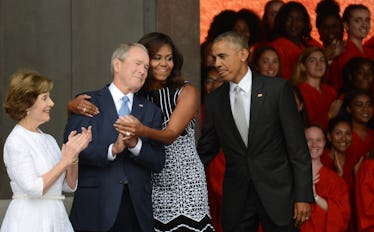 This Friendly Michelle Obama & George Bush Moment Has Turned Into A Sweet Meme
Astrid Riecken/Getty Images News/Getty Images
President George W. Bush and Michelle Obama might not seem to have a lot in common at first glance. After all, they're from opposite sides of the political spectrum and very different administrations: Barack Obama won the 2008 presidency by touting a groundbreaking plan that went against much of the incumbent Bush's policies. That being said, the former first lady and former president have reportedly struck up an unlikely friendship over the years, and this meme of Michelle Obama and George Bush at McCain's funeral has Twitter smiling. TBH, it's the show of mutual respect and fellowship that I think we all need in the dark and politically divisive time that is 2018.
While President Bush might have been at odds with President Obama during his presidency, they looked like they'd put all of that behind them during Senator John McCain's funeral on Saturday, Sept 1. President Bush and President Obama — who'd both been invited to speak at the longtime Senator's funeral — were seated next to each other during the proceedings at the Washington National Cathedral service. During former U.S. Senator Joe Lieberman's tribute, eagle-eyed fans noticed a friendly gesture that seemed to hint at an unlikely friendship, and they have ~ feelings ~ about it.
In footage from the funeral, President Bush can be seen passing what the internet seems to think is a candy or a mint to Michelle Obama, who can be seen smiling and whispering, "Thank you," and the whole exchange is warming the internet's heart.
Whether or not you agreed with John McCain's political viewpoints, his legacy as a "maverick" who was willing to challenge the Republican party has definitely seemed to bring people on both sides of the political spectrum closer together after his passing on Aug. 25. Although President Trump was not in attendance at the late POW's funeral, President George Bush, President Clinton, and even one-time challenger President Obama were on hand to pay their respects. Seeing opposing political leaders on the same page and even being friendly towards each other is refreshing in an administration that's fraught with bipartisan tension, and it's a poignant reminder to treat even political adversaries with politeness and respect, which thankfully includes passing a piece of hard candy to quench a dry throat in church.
With their time in the White House behind them, President Bush and Michelle Obama were able to break the ice over the past couple years. After photos of the pair hugging at the opening of the Smithsonian's National Museum of African American History and Culture in Sept. 2016 went viral, President Bush told People about his genuine connection with the former first lady and how they just "took to each other."
"She kind of likes my sense of humor. Anybody who likes my sense of humor, I immediately like," he told the publication. "I can't remember where else I've sat next to her, but I probably have a few wise cracks and she seemed to like it okay."
In 2017, the group reunited, this time with the Clintons and First Lady Melania Trump, for the most epic photo-up ever at Nancy Reagan's memorial service.
"I needle her a little bit and around her, I'm fairly lighthearted," President Bush said to People. "[The Obamas] are around serious people all the time and we just took to each other."
OK, so some candy-passing isn't going to change the world or the state of American politics. But I think it's the heart-warming display of camaraderie that we all need right now.