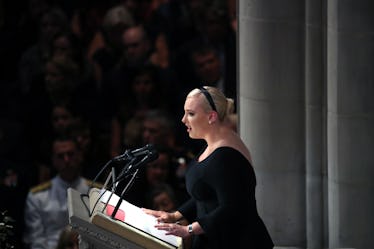 Twitter Is Applauding Meghan McCain's Strong Words From John McCain's Eulogy
Mark Wilson/Getty Images News/Getty Images
As former Presidents Barack Obama and George W. Bush joined the many who gathered to pay their respects to the late Senator John McCain at a Washington National Cathedral service on Saturday, Sept. 1, Meghan McCain delivered a stirring eulogy. In honoring her father, McCain included barbed references that appeared to shade President Trump, who was not present at the proceedings. These tweets about Meghan McCain condemning "cheap rhetoric from men" show that the internet is so here for her fighting words.
"The View" host's eulogy, which was the first scheduled speech during the late politician's send-off on Saturday, began by applauding Senator McCain's wartime service.
"He was a great man," McCain began, addressing the assembly. "We gather here to mourn the passing of American greatness." She then appeared to throw shade at President Trump, who was reportedly not invited to the service, with an allusion to his draft deferments during the Vietnam War.
She didn't hold back as she clarified, "The real thing, not cheap rhetoric from men who will never come near the sacrifice he gave so willingly, nor the opportunistic appropriation of those who lived lives of comfort and privilege."
McCain later appeared to throw jabs again as she shot down President Trump's 2016 campaign slogan, "Make America Great Again" with a pointed reference. "The America of John McCain has no need to be made great again, because America was always great," she stated, at which point the assembly broke into applause. While Trump's daughter and Assistant to the President, Ivanka Trump, and her husband Jared Kushner, senior advisor to Trump, were in the church, it couldn't be seen if they were a part of the thunderous applause.
While they might not have agreed with the longtime senator's politics, the Twitterverse is applauding the former Fox News contributor for making a stand against the man who publicly disparaged her father's wartime record. Meghan McCain didn't hold back when she unapologetically served all the truths to President Trump, and people seem to respect her for it.
President Trump, who's received significant backlash for his perceived disrespectful conduct in the wake of McCain's passing, formerly dismissed the former POW's years of torture and solitary confinement during a campaign rally in Iowa in July 2015.
"He's not a war hero. He's a war hero because he was captured," he remarked, according to The New York Times. "I like people that weren't captured."
The fellow Republicans had an oftentimes personal feud during President Trump's time in office and the pair were still very much at odds when McCain passed away on Saturday, Aug. 25. On Monday Aug. 27, the POTUS sparked significant controversy when he only lowered the White House flag for the minimum amount of time required. Considering the pair's fraught relationship and the aftermath of the emotional week, it was unsurprising that Trump was asked not to attend McCain's Friday, Aug. 31 funeral in Washington D.C.
However, during the Friday funeral, Vice President Mike Pence raised eyebrows when he referenced the uninvited president not once, but twice.
"The president asked me to be here on behalf of a grateful nation to pay debt of honor and respect to a man who served our country throughout his life, in uniform and in public office," Pence said in his speech, before remarking, "As President Trump said yesterday, we respect his service to the country."
Unsurprisingly, Meghan McCain appeared to give Pence some serious side eye when he name-dropped the president during his speech, and now she's making it very clear what she thinks about the whole thing with her stirring eulogy.
After serving all the shade, she concluded Saturday's remembrance on an emotional note as she described her father's last moments. Fighting back tears, she said, "An old man shook off the scars of battle one last time and arose a new man to pilot one last flight, up and up and up."