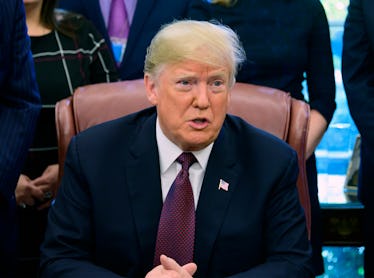 Here Are The Chances That Donald Trump Will Attend George H.W. Bush's Funeral
Pool/Getty Images News/Getty Images
Preparations are underway to say farewell to the late President George H.W. Bush, who reportedly passed away at his Houston, Texas home on Friday, Nov. 30. With family, friends, and fellow political members set to attend Bush's funeral service, many are wondering: Will Donald Trump attend George H.W. Bush's funeral? Despite the fraught relationship between the two leaders, an official statement from the White House on Dec. 1 indicated that President Donald Trump will, in fact, be at the ceremony to pay his final respects to the late 94-year-old. Elite Daily reached out to the White House for further comment on Trump's planned attendance but did not hear back at the time of publication.
Many details of the funeral service are still unknown, but it was announced in a statement from White House Press Secretary Sarah Sanders that both Trump and his wife, Melania, will be in attendance at the event. In a tweet shared from the official White House Twitter account, the news read,
The President and First Lady will attend the funeral for President George H.W. Bush at the National Cathedral in Washington.
According to Bloomberg, the funeral will be held at the National Cathedral in Washington D.C., but the timing is still unclear as of writing. Elite Daily reached out George H.W. Bush's representation for further details regarding the funeral service but did not hear back at the time of publication.
After the news of Bush's death broke, Trump declared Wednesday, Dec. 5 a national day of mourning for the late President and shared an uncharacteristically somber response to the news via statement.
In the statement, shared on Saturday, Dec. 1, he paid tribute to Bush's "authenticity, disarming wit, and unwavering commitment to faith, family, and country," as well as Bush's lengthy career in the military and politics.
He offered up more heartfelt words about Bush later on Saturday afternoon, telling reporters while traveling to Argentina for the G-20 summit, per The Hill:
He was a wonderful man ... He was a very fine man. I met him on a number of occasions. He was a terrific guy and he'll be missed. He lived a full life and an exemplary life.
It's quite the change (and a commendable one, at that) for Trump, as he's repeatedly clashed with members of the Bush family over the years. For example, he was a vocal critic of Jeb Bush (his former Republican presidential rival) in 2016, during which he repeatedly dismissed Bush as "low energy." Trump has also criticized President George W. Bush in the past, even reportedly calling for his impeachment in 2008 over the Iraq War and calling members of his administrations liars, per USA Today. But it wasn't one-sided: George W. Bush hit back by expressing his concern of bigotry in the Trump-era of America politics, and his mother shot back in a 2016 interview with CBS News, saying she didn't "know how women can vote for someone" like [Trump], per The Washington Times.
The turmoil was seemingly what contributed to Trump's decision not to attend Barbara Bush's funeral, who died in April at the age of 92 from complications related to congestive heart disease and chronic obstructive pulmonary disease, according to The Houston Chronicle. The decision stemmed from Trump's desire "to avoid disruptions due to added security, and out of respect for the Bush Family." Instead, wife Melania attended in his place. He did, however, offer his condolences to the Bush family, calling the former first lady "a titan in American life." Trump added, "Her presence and character were engraved into America's identity."
It's been a tough road, for sure. But it's great to see that political and personal differences can be put to the side in such an unfortunate time. That, after all, is what being a true leader is all about.