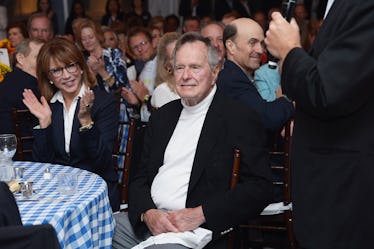 Donald Trump Praised President George H.W. Bush In A Heartfelt Statement After His Death
Michael Loccisano/Getty Images Entertainment/Getty Images
Hours after reports broke that George H.W. Bush had passed away on Friday, Nov. 30, Donald Trump is sharing his condolences by reflecting on the late president's tenure in the White House. Despite the pair's public feud, Donald Trump's statement after George H.W. Bush's death applauded his leadership, and his praise of Bush's "essential authenticity, disarming wit, and unwavering commitment to faith, family, and country" shows he will be missed.
In an official White House statement from him and wife Melania, President Trump began, "Melania and I join with a grieving Nation to mourn the loss of President George H.W. Bush, who passed away last night. Through his essential authenticity, disarming wit, and unwavering commitment to faith, family, and country, President Bush inspired generations of his fellow Americans to public service — to be, in his words, 'a thousand points of light' illuminating the greatness, hope, and opportunity of America to the world.'
Trump continued, spotlighting the highlights of the former president's career. "President Bush always found a way to set the bar higher," he wrote. "As a young man, he captained the Yale baseball team, and then went on to serve as the youngest aviator in the United States Navy during the Second World War. Later in life, he rose to the pinnacle of American politics as a Congressman from Texas, envoy to China, Director of Central Intelligence, Vice President of eight years to President Ronald Reagan, and finally President of the United States."
"With sound judgement, common sense, and unflappable leadership, President Bush guided our Nation, and the world, to a peaceful and victorious conclusion of the Cold War," he continued. "As President, he set the stage for the decades of prosperity that have followed. And through all that he accomplished, he remained humble, following the quiet call to service that gave him a clear sense of direction."
Trump concluded his statement by sending condolences to the Bush family and reflecting on the late president's legacy. "Along with his full life of service to country, we will remember President Bush for his devotion to family—especially the love of his life, Barbara," he wrote. "His example lives on, and will continue to stir future Americans to pursue a greater cause. Our hearts ache with his loss, and we, with the American people, send our prayers to the entire Bush family, as we honor the life and legacy of 41."
The passing of the 94-year-old, who reportedly died at his home in Houston, Texas, comes about seven months after his wife Barbara Bush died on April 17, 2018. Due to President Trump and President H.W. Bush's political differences — both Presidents H.W. Bush and Bush declined to endorse the Republican presidential nominee over Hilary Clinton — Trump decided not to attend Barbara Bush's funeral "to avoid disruptions due to added security, and out of respect for the Bush Family." Instead, wife Melania attended in his place.
However, per Politco, the White House revealed on Saturday that President Trump and the First Lady will both be attending President George H.W. Bush's funeral. Elite Daily reached out to the White House to confirm the reports of President Trump's plans to attend the funeral, but did not hear back at the time of publication. Additionally, Trump is scheduled to have a phone call on Saturday, Dec. 1 with President George Bush to share his sympathies.
Per White House Press Secretary Sarah Huckabee Sanders, President Trump will also be making Wednesday, Dec. 5 a national day of mourning as a sign of respect and to allow the nation to grieve this significant loss. According to Bush's spokesman Jim McGrath, funeral arrangements will be announced at a later time.