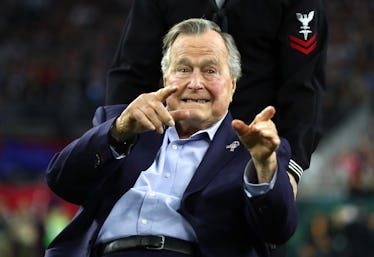 George H.W. Bush Has Reportedly Died At 94 Years Old
Al Bello/Getty Images Sport/Getty Images
Unfortunately, sources have reported that George H.W. Bush has died at 94 years old. His death was announced on Nov. 30, 2018. It's a very emotional day for Americans.
According to CNN, Bush died in Houston, Texas. His death was confirmed by his spokesman, Jim McGrath. The news comes over seven months since Bush lost his wife of 73 years, Barbara Bush, who died on April 17, 2018. George H.W. Bush announced in 2012 that he was dealing with complications from vascular Parkonism, according to The Washington Post.
The news comes months after Bush was admitted to the hospital with an infection that led to sepsis. On April 23, 2018, a source told CNN that the former Republican president's blood pressure kept dropping and there were concerns of whether or not he'd make it, but he was (thankfully) stabilized. A news release from Bush's spokesman Jim McGrath at the time read,
President Bush was admitted to the Houston Methodist Hospital yesterday morning after contracting an infection that spread to his blood. He is responding to treatments and appears to be recovering. We will issue additional updates as events warrant.
The hospitalization occurred just six days after his wife Barbara Bush passed away, and only a day after her funeral. Family members had been worrying about how Bush would deal with her passing, especially after spokesperson Jean Becker revealed that Bush was despairingly "broken-hearted" over it. But the day after her death, on April 18, 2018, Bush paid tribute to his wife in a statement, signaling that he'd be just fine. And as far as worrying about him, he said to "cross the Bushes of your worry list."
According to USA Today, the statement read,
"I always knew Barbara was the most beloved woman in the world, and in fact I used to tease her that I had a complex relationship about that fact. But the truth is the outpouring of love and friendship being directed at The Enforcer is lifting us all up," he said, teasing with Barbara's nickname. "We have faith she is in heaven, and we know that life will go on — as she would have it. So cross the Bushes off your worry list."
Despite Bush's reassurance, there was still a lot to worry about. He struggled with multiple medical issues over the years, including a form of Parkinson's disease that left him unable to walk and dependent on a wheelchair and scooter. The illness also reportedly made speaking difficult.
But Bush's health issues didn't stop there: In 2017, he suffered from pneumonia twice — once in January, which prevented him from attending President Donald Trump's inauguration, and another time in April — according to USA Today. In 2015, he was hospitalized for breaking a bone in his neck after falling in his home in Kennebunkport, Maine. And the year before, he was admitted for shortness of breath.
Though it's a sad time to see him go, I guess the light at the end of the tunnel is the fact that Bush is finally at peace and resting with his wife.
Rest in peace, Mr. Bush. The people of the United States will never forget you.