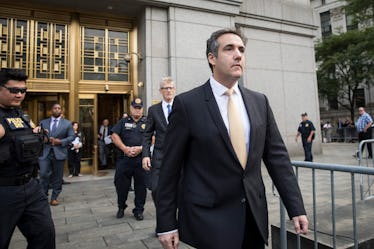 Michael Cohen Might Have Some Important Information About The Trump Tower Meeting
Drew Angerer/Getty Images News/Getty Images
Well everyone, just when we thought this Michael Cohen drama might officially be coming to a close, it looks like a whole other door has opened. For those who have kept up with the news lately, you've probably already heard about the Paul Manafort verdict, but Michael Cohen's reported connection to the Trump Tower meeting is a new development that could get juicy. Just another day in 2018.
On Wednesday, Aug. 22, Michael Cohen's attorney, Lanny Davis, told CNN's Wolf Blitzer that Cohen witnessed a conversation between Donald Trump and his son Donald Trump Jr. that appeared to be related to the 2016 Trump Tower meeting. Elite Daily reached out to the White House for comment, but did not immediately hear back.
"At this juncture, I can only say that he was present during a discussion with Jr. and dad," Davis told CNN. "Beyond that his testimony to the Senate Intelligence and House Intelligence committees was accurate." Cohen testified to the Senate Intelligence Committee in Sept. 2017, saying that he didn't know about the meeting until it was reported by the press in the summer of 2017. However, Chairman Richard Burr told reporters on Aug. 21 that the committee had "re-engaged" Cohen on the subject.
For those who've forgotten, Don Jr., Jared Kushner, and Paul Manafort met in June 2016 with Russian lawyer Natalia Veselnitskaya to get "dirt" on Democratic opponent Hillary Clinton. Trump effectively confirmed this information on Aug. 5 when he tweeted that the meeting was set up to "get information on the opponent." However, he has continuously said that he did not know about the meeting.
Cohen has reportedly been claiming since late July that Donald Trump Sr. knew about the infamous 2016 meeting in advance, something that Trump himself has denied. So, the question on everyone's mind is whether Donald Trump Sr. did in fact know about the infamous Trump Tower meeting. If so, that alone could raise serious questions about possible collusion with Russia, given that by Don Jr.'s own admission, the purpose of the meeting was to get information on an opponent.
Well, now that Cohen has taken a plea deal, we might be learning more information about that meeting a lot sooner than expected.
Trump took to Twitter on July 27 to shut down the claims, but was careful not to identify Cohen by name.
He wrote,
I did NOT know of the meeting with my son, Don jr. Sounds to me like someone is trying to make up stories in order to get himself out of an unrelated jam (Taxi cabs maybe?). He even retained Bill and Crooked Hillary's lawyer. Gee, I wonder if they helped him make the choice!
On Tuesday, Aug. 21, Davis appeared on MSNBC's The Rachel Maddow Show, and revealed that Cohen is willing to speak with Special Counsel Robert Mueller, who is investigating possible collusion between the Trump campaign and Russia in the 2016 presidential election, about the meeting. According to Davis, the meeting showed "the obvious possibility of a conspiracy to collude and corrupt the American democracy system."
In case you've been living underneath a rock for the past few days, here's a rundown on all the recent Trump administration drama that's unfolded recently. On Tuesday, Aug. 21, Michael Cohen pleaded guilty to eight counts of financial fraud, including five counts of of tax evasion, one count of false statements to financial institutions, one count of cause of unlawful corporate contribution, and one count of excessive campaign contribution. In addition, Cohen admitted to paying Stormy Daniels and Karen McDougal, two women who claimed to have had affairs with Donald Trump years ago, at "the direction of the candidate" — which appears to indicate Donald Trump. Donald Trump has consistently denied allegations of any affairs. Elite Daily reached out to the White House for comment about Cohen's claims, but did not hear back.
There's certainly a few problems facing the White House at the moment, and a new one could be arising if Cohen does have more information about the Trump Tower meeting. Sit back and relax everyone. Don't touch that dial.