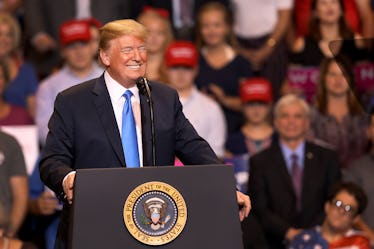 Trump's Tweets About The Trump Tower Meeting Could Have Implications For Impeachment
Rick Loomis/Getty Images News/Getty Images
Over the last couple of days, President Donald Trump has been using his social media platform to defend a high-profile meeting his son Donald Trump Jr. had with Russian nationals in advance of the 2016 presidential election. By Trump's own admission in a tweet on Sunday, Aug. 5, the June 2016 meeting at Trump Tower was proposed on the basis of obtaining "dirt" on Democratic candidate Hillary Clinton. Aside from the other concerns the president's post raised is the question of whether Trump could be impeached for the now notorious meeting.
In an tweet from Sunday, Aug. 5, Trump wrote, "This was a meeting to get information on an opponent, totally legal and done all the time in politics - and it went nowhere." This contradicted earlier claims by the president that the meeting was primarily focused on discussing laws around U.S. adoption of Russian children and the Magnitsky Act. (In a pair of follow-up tweets Monday, Trump doubled down and claimed that it was actually Clinton who had "colluded" with Russians "to obtain compromising materials" on him.)
"There is no question that Trump could be impeached for this kind of treachery or betrayal," Barbara Radnofsky, lawyer and author of A Citizen's Guide to Impeachment, tells me in an interview for Elite Daily. To be clear, Radnofsky is not involved in any of the legal proceedings against Trump. Though a few Democratic politicians have introduced articles of impeachment against the president, as of Aug. 7 there has been no serious move to impeach Trump.
To clarify, whether the president is at legal risk is a separate conversation, but there is some overlap. As of Aug. 7, Trump has not been accused or or charged with any crime, but that hasn't stopped speculation. Former federal prosecutor Renato Mariotti tells Elite Daily that as for his legal outlook, Trump has gotten himself in a tight spot for a few reasons, thanks in part to Trump's former personal attorney apparently flipping on him. Mariotti is also not involved in any of the legal proceedings against Trump.
According to a report in CNN from July 27, Cohen said that Trump knew in advance about the meeting and approved it, and was prepared to bring this knowledge to FBI Special Counsel Robert Mueller, who is leading the investigation into alleged obstruction of justice and possible collusion between the Trump campaign and Russia during the 2016 election. Trump has repeatedly denied knowing about the meeting in advance, and the White House did not respond to Elite Daily's request for further comment. If Trump did know about the meeting in advance, it could implicate him in knowingly accepting help from a foreign entity in an election, something that candidates are barred from doing under federal election laws.
In addition to accepting help from a foreign government, Mariotti said there are a handful of crimes for which a prosecutor could potentially pursue charges. But whether or not any of this goes to court, Trump could still be at huge risk for impeachment, Radnofsky explains.
Though accounts differ on what the president knew or when he knew it, this is beside the point, Radnofsky says. Regardless of whether he's legally liable for any crimes, what will matter to Congress is that the president in his Sunday tweet failed to condemn his son's agreement to meet on the condition of getting dirt on his opponent. "He's more than condoned it — he's ratified it," she says.
"For impeachment, [Trump] has uniquely and amazingly harmed himself" with the Sunday remarks, she says. "Never has a president ever made such a concession."
In fact, Radnofsky says, the Aug. 5 tweet itself is "impeachable." Because the president did not condemn, but rather defended the meeting, she says, this would meet the bar for impeachment for betrayal of trust and treachery. "High officers of the United States have been impeached and convicted for far less harmful misconduct," she says. She adds that she sees Trump's actions as exceeding any other impeachment case in U.S. history.
Impeachment — which is different than a criminal trial — is a process by which Congress tries a member of the executive branch (such as the president) for committing "high crimes" such as treason, and can result in removal from office. This is a two-part process requiring majority votes in both the House and the Senate. In fact, the Senate requires a two-third vote to impeach. Criminal trials, on the other hand, are punitive and would try an official for a federal crime. However, many experts believe that a sitting president can't be tried while in office.
So Mueller, right now anyways, probably can't pursue a criminal trial against the president by law (though some have argued he can still indict him). Mariotti explains that the special counsel could indict him once he's out of office, but in the meantime may choose to subpoena Trump to force an interview. The result of his investigation wouldn't be a criminal indictment, but rather a finding and recommendation to Congress, presumably for impeachment.
Never has a President ever made such a concession.
By turning over that recommendation — with a whole lot of evidence — to Congress, Mueller will be giving the body that does have the power to remove him from office a dump truck of material to work with.
While impeachment can result in removal from office, a criminal justice trial doesn't mean that an official loses their job, Radnofsky points out. On the flip side, being charged with — or even convicted of — a crime is not necessary to impeach a sitting president. What is necessary for impeachment, Radnofsky explains, is a determination that a president either does or will jeopardize the country's democracy, safety, and/or its people. And Trump's social media post, she says, was the most damning yet.
[Trump] has uniquely and amazingly harmed himself.
She says Trump's defense of the meeting was like throwing away his own get-out-of-jail-free card. "[Trump] could've escaped impeachment by saying, 'I will never betray my trust to the country or allow agents of my campaign to do this again,'" she says. "But instead, he embraced [it]."
She adds that she doesn't know of any candidate or campaign that would sit for a meeting with a foreign entity to get material on an opponent and wouldn't immediately "call the FBI."
So, whether or not a charge ever sees the light of day, Radnosfky says, the big question is whether he's given Congress enough reason to believe that he's a threat to the country, and whether this reaches the level of needing to remove him from office. In her eyes, Trump has just given Congress a massive reason to think so.