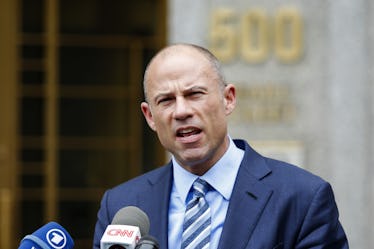 Stormy Daniels' Lawyer Says There Are More Recordings Of Trump's Calls, So Get Ready
Eduardo Munoz Alvarez/Getty Images News/Getty Images
President Donald Trump's lawyer, Michael Cohen, is really in the thick of it following news that he secretly recorded conversations with the president before the election. While news of those tapes — in which Cohen and the president discussed payments to a former Playboy model who claimed she had an affair with Trump, which Trump has denied — was shocking, apparently there's more. Stormy Daniels' attorney Michael Avenatti claims there are more recordings of Donald Trump's calls, so who knows what we'll be hearing about next.
During a July 22 appearance on ABC News' This Week, Avenatti claimed that the secret Trump recordings revealed on July 20 aren't the only ones. "This is not the only tape," Avenatti said. "I can tell you that for a fact. There's multiple tapes."
Avenatti continued on to claim that the tapes would prove to be a "big problem" for Trump, and even that the president allegedly knew Cohen had a tendency towards secretly taping conversations with people. Avenatti said on This Week,
That, ultimately, is going to prove to be a big problem for the president. You know, that old adage, 'You've lived by the sword, you die by the sword,' is going to be true in this case, because the president knew that his attorney, Michael Cohen, had a predisposition toward taping conversations with people.
On July 20, The New York Times reported that Cohen had recorded a phone call with Trump in which they discussed payments to Karen McDougal, a former Playboy model who claims she had an affair with Trump, although Trump has denied any affair. The recording was reportedly seized during the April 9 raid on Cohen's home and office by the Federal Bureau of Investigation (FBI), according to The New York Times.
One of Trump's attorneys, former Mayor of New York City Rudy Giuliani, confirmed to The New York Times on July 20 that Trump had indeed spoken to Cohen about payments to McDougal on the recording, but didn't know the conversation was being recorded. Giuliani added that Trump did nothing wrong.
A lawyer for Cohen told the Times in a statement that the recording would not hurt Cohen. "When the recording is heard, it will not hurt Mr. Cohen," Lanny J. Davis told the paper. "Any attempt at spin cannot change what is on the tape."
Avenatti is representing Daniels in a defamation lawsuit which centers on a claim that Cohen paid her $130,000 in exchange for her silence over an alleged affair with Trump back in 2006 — an affair which Trump has denied. After originally denying the reports, Cohen later admitted to making the payment out of his own pocket, though he said that Trump himself didn't know about it, raising questions of whether the payment violated campaign finance law. Giuliani later said on Hannity that Trump did in fact pay Cohen back for the payment to Daniels.
Avenatti didn't elaborate to This Week about how he knows about the existence of any more potential tapes, however. Instead, he only said that he could have received the tapes from a number of sources, including Cohen himself. He said,
I could have received it from Michael Cohen. I could have received it from one of Michael Cohen's counsel. I could have received it from others.
Daniels' lawyer then made sure to add that he ran into Cohen on Monday, July 16 in a New York City restaurant and that they had some good conversations, adding that he believes Cohen is ready to speak out. He said, "I think [Cohen] is ready to tell the truth, and ultimately, I think he is going to cooperate with us as it relates for our search for the truth." Cohen's attorney Brent Blakely said in a statement to The Washington Post that neither he nor Cohen had cooperated with Avenatti, nor did they have interest in doing so.
In a July 21 tweet, Trump denied any wrongdoing and called out Cohen for recording him. Trump wrote that it's "inconceivable" that the government would raid Cohen's office, and that a "lawyer would tape a client." Trump also added that he did nothing wrong. He tweeted,
Inconceivable that the government would break into a lawyer's office (early in the morning) - almost unheard of. Even more inconceivable that a lawyer would tape a client - totally unheard of & perhaps illegal. The good news is that your favorite President did nothing wrong!
There's a lot to unfold here, basically. Avenatti didn't divulge what's on the other tapes he says allegedly exist, but I can't imagine it'll be good news for anyone.