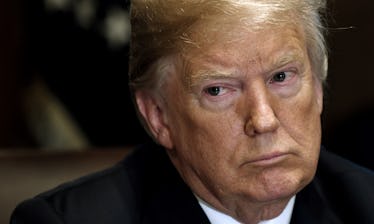 Donald Trump's Tweet About "Your Favorite President" After Michael Cohen's Leaked Recording Is So Cringeworthy
Pool/Getty Images News/Getty Images
Earlier in the week, it was revealed that Donald Trump's former lawyer, Michael Cohen, had reportedly secretly recorded the president discussing payments apparently to former Playboy model Karen McDougal — who claims they had an affair in 2006, which Trump denies — to everyone's surprise. Of course, President Trump felt the need to respond to the revelation, but his remarks are super cringeworthy and probably the most Donald Trump-like things you'll ever lay eyes on. Just wait until you read Donald Trump's tweet about Michael Cohen's secret recording — you're so gonna agree with me.
On Saturday, July 21, President Trump tweeted it was "inconceivable" that the government would break into a lawyer's office — as federal agents did with Cohen in April, unearthing troves of documents and other materials related to a probe into possible campaign finance violations. (Cohen and Trump have denied that payments in 2016 had anything to do with the campaign.)
Trump also denounced Cohen's actions as being "inconceivable" and "perhaps illegal." But the real kicker happened when he went on to dub himself as "your favorite president" while maintaining his innocence. Trump wrote:
Inconceivable that the government would break into a lawyer's office (early in the morning) — almost unheard of. Even more inconceivable that a lawyer would tape a client — totally unheard of & perhaps illegal. The good news is that your favorite President did nothing wrong!
*record scratch* Um, speak for yourself Trump. I mean, did he forget President Barack Obama topped a survey of "best presidents" just days ago, while he ranked fourth, or what? I really need answers on how and why he concluded such a thing.
Tons of Twitter users were equally appalled.
Now's not exactly the time for Trump to be so boastful and arrogant, either, considering Cohen is currently under federal investigation for payments he facilitated to several women to reportedly keep them from speaking out about Trump ahead of the 2016 presidential election. One of the payments included a $130,000 payout to adult actress Stormy Daniels, who claims she and Trump had an affair in 2006. Although Trump has repeatedly denied the alleged affair, Cohen is being investigated by the U.S. Attorney's Office for the Southern District of New York for potential bank fraud and campaign finance violations, according to The Washington Post. Cohen has acknowledged the Daniels payment, but denied that it was related to the campaign.
The FBI seized Cohen's secret recording, which reportedly includes Cohen and Trump talking about payments made to another one of Trump's alleged mistresses, Karen McDougal (Trump has denied allegations of this affair as well), during a raid of his offices on April 9.
Cohen has also signaled that he might flip on Trump — who he'd previously vowed to "take a bullet" for — so there's another thing the president might want to prepare for. In an interview with ABC News' George Stephanopoulos on July 2, Cohen made it clear that he would put his family first before serving as a "punching bag as part of anyone's defense strategy." He continued, "I am not a villain of this story, and I will not allow others to try to depict me that way."
That said, this is, obviously, a serious issue, and it's growing more significant by the day. Perhaps Trump might really wanna start focusing on that instead of all this extra bragging. Just a thought.