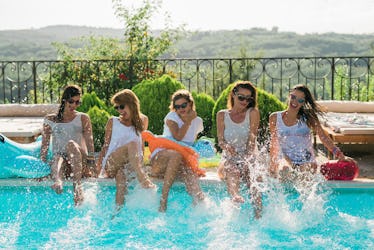 40 Memorial Day Weekend Captions For Every Adventure You Have Planned
Memorial Day weekend is a perfect time to get out of town for a short and sweet getaway. With many of us off from work on Monday, May 28, the extra weekend day allows us to truly embrace our wanderlust and travel. Even if you don't have the funds to scope out someplace new, planning a weekend at the beach or hosting a barbecue with your friends in your backyard is essential. Whatever you plan on doing, don't forget to capture the weekend with some Instagram-worthy pics, and post them with Memorial Day weekend 2018 captions.
Embrace that travel bug that has you wanting to live it up this summer, while also giving into those carefree chill vibes. If you don't have any plans right now, don't worry. There's still time to put together a poolside party with your favorite inflatables, a bonfire with your squad, or a quick road trip out of town with your BFF. Just don't forget to snap pics for Instagram, so you'll always remember this epic weekend. I've got you covered with these 40 captions for every occasion, so even if you're not sure what you're doing just yet, you'll be set when the time comes to post the perfect pic to the 'Gram.
If You're Headed To The Beach
1. "Seas the day." — Unknown
2. "Ocean air, salty hair." — Unknown
3. "All I need is a little vitamin sea." — Unknown
4. "Tropic like it's hot." — Unknown
5. "Good times and tan lines." — Unknown
6. "The tans will fade, but the memories will last forever." — Unknown
7. "Beach, please." — Unknown
8. "Life is better at the beach." — Unknown
If You're Chilling Poolside
9. "Girls just wanna have sun." — Unknown
10. "I want to lay down, let the sun hit my face, and forget about absolutely everything." — Unknown
11. "Life is cool by the pool." — Unknown
12. "A splashing good time!" — Unknown
13. "Mermaid off-duty." — Unknown
14. "Just keep swimming." — Finding Nemo
15. "All my troubles wash away in the water." — Unknown
16. "I got that sunshine in my pocket. Got that good soul in my feet." — Justin Timberlake, "Can't Stop The Feeling!"
If You're Grilling At A Barbecue
17. "Sun's out, buns out." — Unknown
18. "Glad to ketchup with friends." — Unknown
19. "Relish today, ketchup tomorrow." — Unknown
20. "Grillin' and chillin'." — Unknown
21. "If it involves fireworks, summer nights, barbecues, diet coke, and freedom, count me in." — Unknown
22. "Cheeseburger in paradise." — Jimmy Buffet, "Cheeseburger in Paradise"
23. "You hamburgled my heart." — Unknown
24. "We go together like burgers and fries." — Unknown
If You're Traveling With Your Besties
25. "Adventure is out there." — Up
26. "Wherever you go, go with all your heart." — Confucius
27. "Catch flights, not feelings." — Unknown
28. "Vacation mode on." — Unknown
29. "We travel not to escape life, but for life not to escape us." — Unknown
30. "I want adventure in the great wide somewhere." — Beauty and the Beast
31. "Travel brings power and love back into your life." — Rumi
32. "We didn't realize we were making memories, we just knew we were having fun." — Winnie The Pooh
If You're Camping Out With A Bonfire
33. "Find your wild." — Unknown
34. "Of all the paths you take in life, make sure a few of them are dirt." — John Muir
35. "Let's be adventurers." — Unknown
36. "Camp more. Worry less." — Unknown
37. "Let's wander where the Wi-Fi is weak." — Unknown
38. "Like campfires and marshmallows, we're better together." — Unknown
39. "There is no Wi-Fi in the forest, but I promise you will find a better connection." — Unknown
40. "Welcome to our place in the woods." — Unknown