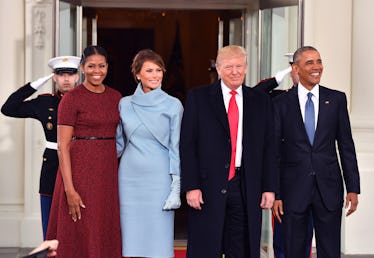 These Photos Prove Melania Trump's Vibe With The Obamas Is So Different Than Donald's
Pool/Getty Images News/Getty Images
It's no surprise why photos of Melania Trump at Barbara Bush's funeral attracted so much attention this month. There Melania was, without President Donald Trump, smiling with President Barack Obama, Michelle Obama, and other former White House couples. It just looked like the first lady gave off a better vibe with the group, certainly much better than her husband would, and professional analysis of Melania Trump's body language with the Obamas concurs.
Take Melania's posture in the notable group photo that featured her, the Obamas, former Secretary of State Hillary Clinton, former first lady Laura Bush, and Presidents Bill Clinton, George H.W. Bush, and George W. Bush. President Trump wasn't at the funeral, opting not to attend "out of respect." That meant the current president was the one omission from the photo that stood out. (The only other living former president who wasn't at the funeral is 93-year-old Jimmy Carter.)
"She has to deal with the awkwardness that he had managed to avoid," body language expert Patti Wood tells me in an interview for Elite Daily.
The photo of White-House-couple-sans-Donald became a meme because of how happy everyone in the photo looked without a certain someone, and Wood says Melania Trump looked comfortable even without her partner there.
"She looks fairly at ease," says Wood. "She's orienting the front of her body — what I call the body windows, all the front aspects of the body — towards the group, which say she wants to be included in the group. She wants to be a part of [it]."
Wood adds that President Obama also maintains a telling posture in the photo, one that is indicative of him trying to make Melania feel more included.
"In this photo, I think [Barack] Obama is choosing not to make Melania look really awkward and off by herself, so he's stepping back slightly," Wood says. "So it's not a full couple photo because they're not on the same plane — Obama and Michelle are not standing side-by-side."
That the photo of Melania Trump with former presidents and first ladies, plus the video that showed her seemingly sharing a joke with the Obamas, became newsworthy is no surprise.
For the past few months, Melania has appeared stoic in her public appearances, as media members speculate about just how much recent stories regarding President Trump's alleged affairs have affected the first lady. The White House has denied that Trump had affairs with Stormy Daniels and Karen McDougal.
Then there's another reason why the photos stood out: By all accounts, President Trump has a bad relationship with all of the former presidents and first ladies that were in the photo taken at former first lady Barbara Bush's funeral.
The White House statement announcing Trump would be absent at the funeral highlighted that fact, with the statement noting that his absence was a show of "respect."
As if the statement wasn't telling enough, though, body language expert Traci Brown says that Donald Trump's posture when he's around the Obamas gives off the impression of a lack of comfort.
"He scowls a lot. Even when he's smiles, he can look like he's scowling," Brows tells Elite Daily in an interview."
She then lays out an exercise to underline her point. "If you take your hand, flatten your hand out over your screen, and put it just below his eyes, so you can only see the top of his head ... that says anger," Brown says, while pointing out that that Trump's eyebrows "point downward."
Like Wood, Brown shares the assertion that the way Melania positioned herself in that group photo gave off a sense of wanting to be included. Brown also noted how rare it was to see Melania Trump smiling.
"In Eastern Europe, people don't walk down the street with smiles on their face," Brown says. "We don't see her smile unless there's something outwardly, overtly there in front of her to smile at. And I think Obama brings out more of that than Donald does."
Brown goes on to point out that photos of Melania and Donald from earlier in their relationship feature more smiles together than more recent photos.
Despite that fact, the first lady seemed to be all smiles when she met up with the Obamas and other White House couples, which body language experts say tells its own story.