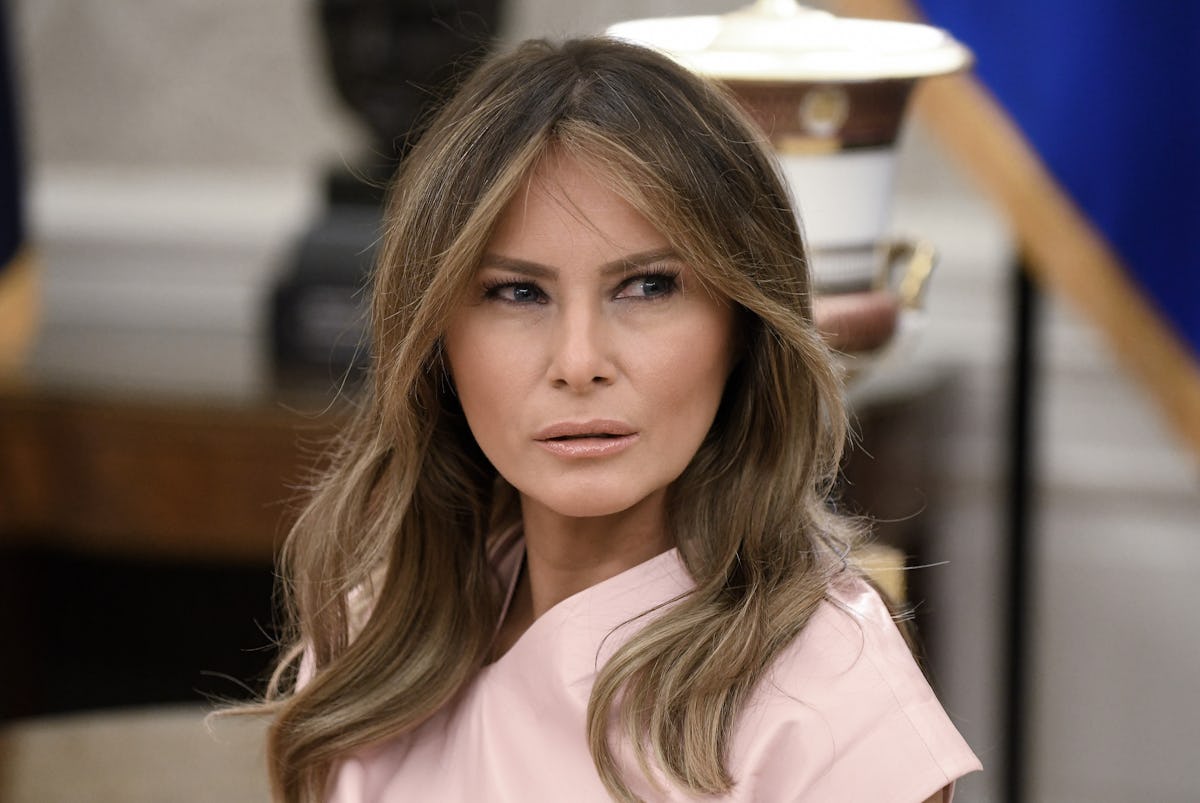 Melania Trump's Tweet About "Be Best" Back-To-School Tips Totally Backfired
Pool/Getty Images News/Getty Images
Melania Trump just can't seem to catch a break when it comes to her #BeBest initiative. As if the claims that she'd plagiarized the name from former first lady Michelle Obama weren't enough, Trump tweeted a call for back-to-school tips as a part of her youth campaign, and it didn't go over too well. In fact, Melania Trump's back-to-school tweet about "Be Best" has people calling out her own husband, President Donald Trump, and his administration's less than #BeBest behavior, and you've gotta see it.
Trump took to Twitter on Aug. 6 to ask her followers how they intend to be the best version of themselves throughout the new school year as a part of her #BeBest campaign — her first initiative as first lady, which is meant to focus on some of the major issues children face today, including cyberbullying and opioid abuse. Her tweet read:
It's #Backtoschool for many youth this month. As you begin a new year, how will you be the best you? #BeBest
The tweet immediately backfired, with many Tweeters slamming Trump for her apparent hypocrisy, as her husband often exhibits less-than-stellar behavior.
One Twitter user by the name of @PGKroeger wrote, "... Begin with your family at home. Stop them online bullying, lying, boasting, disrespecting, scolding, racebaiting ... Just an idea."
Some people referenced LeBron James, who Donald recently lashed out against in a scathing attack on Twitter after the NBA star criticized him in an interview. During a sit-down with CNN on July 30, James told news correspondent Don Lemon that he believed the president is "[using] sports to divide us."
Others threw shade at the Trump administration's lack of action on school shootings. For example, after the Parkland tragedy, which resulted in the deaths of 17 people in February, Donald called for a raise on the age limit to buy certain assault weapons from 18 to 21. However, he later backpedaled on his call, endorsing a proposal to arm teachers instead.
Flash forward to the present, and there are new so-called safety measures like bulletproof backpacks to help prevent children from getting injured in mass shootings — which many critics have said isn't a real solution to the true problem at hand — and Twitter users are speaking out about it online.
Many others attacked the president's now-abandoned "zero tolerance" policy, which permitted the separation of migrant children from their families after they crossed into the United States illegally. Although the practice has been stopped, there are, unfortunately, hundreds of children still being held in government custody, according to ABC News.
#BeBest has been the subject of scrutiny practically since Trump announced it, though. When she rolled out the initiative back in May, she also released a pamphlet on cyberbullying and tips for parents to help their children stay safe — but some people claimed that Trump ripped the guidelines from a booklet released by Obama's Federal Trade Commission (FTC) in 2014, according to TIME.
Following the criticism, Trump's spokesperson, Stephanie Grisham issued a statement on the first lady's behalf on May 8, calling out the media and challenging journalists to "Be Best" in their work. The statement read:
Mrs. Trump agreed to add Be Best branding and distribute the booklet in an effort to use her platform to amplify the positive message within ... Despite providing countless outlets with ample background, information, and on-the-record comments from the FTC, some media have chosen to take a day meant to promote kindness and positive efforts on behalf of children, to instead lob baseless accusations toward the First Lady and her new initiatives.
The most brutal part, however, was at the end. "Our office will continue to focus on helping children and I encourage members of the media to attempt to Be Best in their own professions, and focus on some of the children and programs Mrs. Trump highlighted in her remarks yesterday," Grisham concluded.
I'll let Grisham have that one, but when it comes to this latest news, it might actually be best if Trump just laid low for a while.