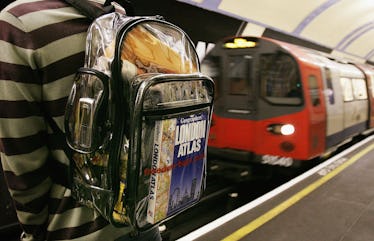 Parkland Students Have To Use Clear Backpacks Now & Many Of Them Aren't Happy
Peter Macdiarmid/Getty Images News/Getty Images
On Monday, April 2, students at Marjory Stoneman Douglas High School, were met by a significant rule change after returning from spring break. The school now requires the use of clear backpacks, a security measure issued in response to the Feb. 14 mass shooting at the school in Parkland, Florida. As Stoneman Douglas High experienced its first day under the new rules, Parkland students' tweets about the clear backpacks showed that many of them were frustrated with the new measure.
The backpacks weren't a monetary inconvenience — the school handed the backpacks out to students free of charge, according to the South Florida Sun-Sentinel. Still, students took to social media to vent their frustrations about the new reality at their high school.
"Tomorrow we will have to go through security check points and be given clear backpacks, my school is starting to feel like a prison," student Sarah Chadwick tweeted a day before returning to Stoneman Douglas.
"Starting off the last quarter of senior year right, with a good ol' violation of privacy!" tweeted another student, Delaney Tarr.
"These clear backpacks accomplish absolutely nothing. Not every item placed in the bag is visible and there is no possible way to monitor the contents of over 3000 backpacks. It's great to know that this is where my community puts its resources," Kyrah Simon added.
Other students, meanwhile, made their feelings about clear backpacks known by simply sticking messages inside the book bags.
The clear backpacks are, however, required as part of an effort meant to ensure school safety after a gunman killed 17 people — 14 students and three staff members — during an attack on Valentine's Day at Stoneman Douglas High.
In an open letter, Robert Runcie, the superintendent of Broward County, where Parkland is located, said that new security measures were being issued district-wide, per NBC News.
"The safety and security of our students and employees remain our highest priorities," the letter reads. "While we cannot change the heartbreaking and senseless act of violence at Marjory Stoneman Douglas, by working together, we can change the future."
But even students who haven't directly criticized the rule lament the fact that it's necessary at all.
"It's difficult, we all now have to learn how to deal with not only the loss of our friends, but now our right to privacy. My school was a place where everyone felt comfortable, it was a home away from home, and now that home has been destroyed," junior Kai Koerber told CNN.
Another student, Lizzie MCNichol tweeted in March, "I know having clear backpacks will help with security, but now all my privacy will be gone. I wish it didn't come to this."
Another way in which students voiced their displeasure is by wearing orange price tags on their bags. The price tags are meant to be a criticism of Florida Senator Marco Rubio and the National Rifle Association (NRA).
"We took the amount of money that Marco Rubio took from the NRA, and we divided it by every single student in the state of Florida," freshman Lauren Hogg told CNN. "So, this is how much we're worth to the Florida government. It's our price tag."
During a nationally televised town hall, held days after the Parkland shooting, Sen. Rubio responded to criticism about accepting donations from the NRA.
"People buy into my agenda, and I do support the Second Amendment," Sen. Rubio said at the time. "The influence of these groups comes not from money, the influence comes from the millions of people who support the agenda."
Cleary, though, there are many students who are still neither happy with Rubio's response nor happy with the latest security measure at Marjory Stoneman Douglas High School.