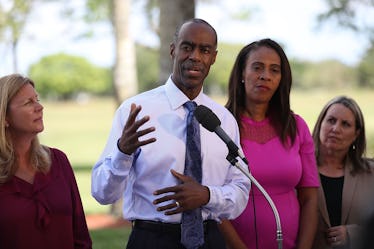 The Parkland School Where A Shooting Happened Is Taking New Measures To Ensure Safety
Joe Raedle/Getty Images News/Getty Images
It's a familiar pattern. Weeks after 17 were murdered by a gunman at a Florida high school, the American gun control debate has been revived and, once again, simmered down. Policy solutions discussed so far have included arming schoolteachers to use deadly force, installing metal detectors, and arguably most troubling, getting used to the inevitability of gun violence — that nothing can be done. The latest solution to surface is that Marjory Stoneman Douglas High School is requiring clear backpacks for all students, according to The New York Times.
The announcement came March 21 from Broward County Public Schools Superintendent Robert Runcie in a letter to parents, the Times reported. In a separate letter to the school community, Runcie described the challenging process of returning to normalcy after the shooting.
"Over the past several weeks, we have received many inquiries regarding the District's efforts to fortify school campuses and enhance safety protocols," the letter obtained by Elite Daily stated. "We want to assure you that the safety and security of our students and employees remain our highest priorities."
Over the last several years, school districts across the country have tested the clear-backpack method of preventing violence. Its intent, is to discourage students from attempting to smuggle weapons into the building. However, some have found that, in practice, it also makes students feel more vulnerable to theft. Backpacks in the Broward County school district would be provided at no cost to students, according to published reports.
Runcie also detailed other new safety measures for the entire district, in light of the massacre on Feb. 14:
All safety protocols for routine school operations are being reinforced at all schools. This includes requiring students and staff to wear identification badges while on campus; locking classroom doors at all times; locking and securing exterior doors and gates throughout the day; being vigilant in monitoring the campus throughout the day; and conducting emergency preparedness and response training for faculty, staff and students on a regular basis.
Additionally, Runcie noted that the school district was in the process of partnering with local authorities to determine the best emergency-situation training protocol for faculty and staff, as well as upgrading the district's security camera system. By mid-2019, Runcie's letter stated, the district expects to have completed a "single point of entry" system for campus visitors, in which fencing and door systems would limit building access to one entrance.
Many of the shooting survivors have publicly praised the faculty and staff of their school district.
In terms of gun reform, however, students have called for very specific fixes, like an assault-weapons ban, universal background checks and digitized gun-ownership records.
Students and advocates took to Twitter after the announcement to decry the clear backpacks mandate and double-down on the plea for what they see as more meaningful legislative reform at the state and federal level.
The first big test for these student activists is coming on Saturday, March 24, with the March for Our Lives, which already has registered more than 800 demonstrations in addition to the focal march in D.C.
"The world failed us," Cameron Kasky, an 11th-grader at Marjory Stoneman Douglas High, told Time Magazine this week, "and we're here to make a new one that's going to be easier on the next generation. If you're against that, then get out."
The teenage spirit behind the student-run rally, is arguably what has made a handful of students become a viral internet sensation. In that same Time interview with Charlotte Alter, the students charmingly referred to National Rifle Association spokeswoman Dana Loesch as "very hot but kind of scary."
Survivor Emma Gonzalez and Loesch debated gun reform a week after the tragedy at a televised CNN town hall in Sunrise, Florida. It remains unclear how the clear backpack mandate will be received, since it won't take effect until after Saturday's march. If nothing else, it might inspire more clever signs from witty students.