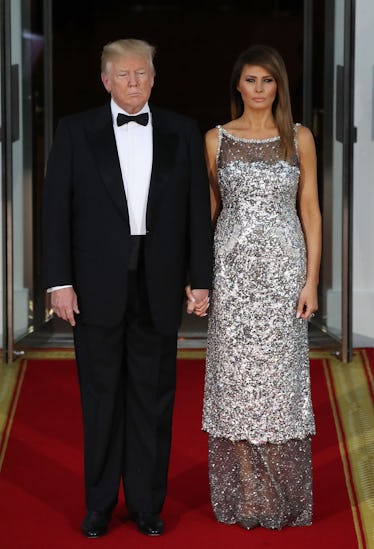 Melania Trump Reportedly Said Something Pretty Nasty About All The Men In The Family
Mark Wilson/Getty Images News/Getty Images
While her husband insists on keeping us posted on his every passing thought, we seldom get any insight into the inner psyche of first lady Melania Trump. With the exception of a few interviews and statements to the press, Melania seems to prefer to keep quiet. Many Americans, myself included, are left wondering what her stance is on... well, literally anything other than her issue of choice, cyberbullying. Now, a recent quote from an anonymous source to Us Weekly claims her thoughts on the men of the family she married into are less than flattering. The publication claims that Melania Trump reportedly said Trump men are "vain and power-hungry."
Us Weekly claims that, before Vanessa Trump filed for divorce from Donald Trump Jr. in March, Melania reportedly warned her, "The Trump men are one and the same — vain and ­power-hungry." According to the inside source, Melania reportedly continued to tell her 40-year-old ex-step-daughter-in-law (yeah, that's a mouthful) that "she could do nothing to change that and offering her husband an ultimatum would be a huge mistake because he would choose his thirst for power like his dad."
In an email to Elite Daily, a representative for Melania Trump said, of the reported comments, "I would encourage these anonymous sources who purport to know so much about Mrs. Trump to have the courage to put their names to these outrageous assertions."
OK, OK, for those of you who might be a little bit confused, allow me to backtrack a little bit. Vanessa Trump was married to Donald's eldest son, Donald Jr., for 12 years before recently filing for divorce. The couple share five children together.
That being said, it's been reported that the couple may have been having trouble under the surface, though they have said nothing publicly to confirm this. News broke on March 19, 2018 that Trump Jr. allegedly had an affair with Danity Kane singer Aubrey O'Day when Vanessa was pregnant with their third child together. (Elite Daily reached out to Trump Jr. and O'Day about the allegation of an affair, but has not yet heard back.) He met O'Day filming Celebrity Apprentice, and the two allegedly continued their affair from the end of 2011 to March 2012, when Vanessa reportedly found emails exchanged between her husband and his mistress.
Of the alleged affair, a source told Us Weekly:
When it started, they were very serious all of a sudden. He told her it was over with his wife, that they were separated and he didn't love her — all of that stuff … Aubrey fell for him hard. She thought they were going to be together for real.
Another source suggested to Page Six that Vanessa and Donald Jr.'s marriage was doomed from the start:
They were having problems before they even got married. People were telling her not to marry him before the wedding. She was interviewing divorce lawyers before [Trump's presidency]. No one thought he'd win. He won and she decided to stay until his term is over. But she just couldn't stand it anymore.
Finally, on March 15, 2018, the couple released a joint statement to Page Six sharing the news that they had officially decided to call it quits:
After 12 years of marriage, we have decided to go our separate ways. We will always have tremendous respect for each other and our families. We have five beautiful children together and they remain our top priority. We ask for your privacy during this time.
Another source claims that all of the drama surrounding her family has been difficult on her. The friend claims to Us Weekly: "It's not an easy time for her." However, Melania has never made a public statement to this effect.
Here's to hoping that, if she is truly unhappy, Melania finds the courage to do what she needs to do to let joy back into her life.
Check out the "Best of Elite Daily" stream in the Bustle App for more stories just like this!