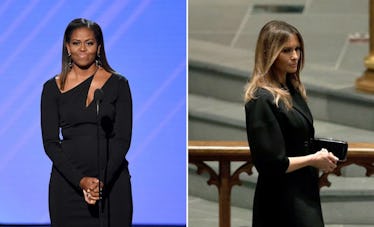 Michelle Obama Revealed That Melania Trump Turned Down Her Offer For Advice
KEVIN WINTER/GETTY IMAGES ENTERTAINMENT/GETTY IMAGES/ POOL/GETTY IMAGES NEWS/GETTY IMAGES
Usually, when you start a new job or endeavor, you look to those with experience to give you some much-needed guidance and reassurance. When it comes to being first lady, well, Melania Trump seemingly had other ideas. In fact, Melania Trump apparently turned down Michelle Obama's offer for advice completely, which has everyone confused. Elite Daily reached out to representatives of Trump's for further comment, but did not hear back by the time of publication.
Obama opened up about the moment during an Nov. 11 appearance on ABC News' 20/20 to promote her newly released memoir Becoming. In the book, Obama reflected on the time her predecessor Laura Bush had extended her an offer for advice when she was an incoming first lady back in 2008, telling her she was "a phone call away." In turn, Obama reached out to Trump after President Donald Trump took office to extend the same offer to her. However, Obama's calls apparently went unanswered. When asked by Robin Roberts if the first lady had accepted her offer, Michelle replied, "No, no she hasn't." She then raised her eyebrows suggestively, which is the same reaction of many of us had. Elite Daily reached out to representatives for the Obamas for further comment, but did not immediately receive a reply.
So, why didn't Trump respond to Obama? She seemingly has it all under control. On Nov. 13, ABC News reporter Jordyn Phelps tweeted out a statement from Trump's spokesperson Stephanie Grisham saying the first lady is doing things in her own way. The statement read:
Mrs. Trump is a strong and independent woman who has been navigating her role as First Lady in her own way. When she needs advice on any issue, she seeks it from her professional team within the White House.
Grisham did not immediately respond to Elite Daily's request for further comment. In the meantime, so many people are just... confused.
In any case, the moment serves as yet another reminder of just how strained the relationship between the Trumps and the Obamas apparently is. Although the tensions date back years, the jabs have been increasingly rolling in since President Trump claimed the presidency in 2016 — and Obama is talking about it all in her new book. She even addressed the legendary side-eye she delivered on Inauguration Day back in 2017, saying, "I made my own optic adjustment. I stopped even trying to smile."
Furthermore, she (understandably) said she would "never forgive" President Trump for spreading "birther" conspiracies about her husband, President Obama, and putting her family at risk for attacks — which Donald didn't take all that well, either. On Nov. 9, he clapped back at the comments, insisting that he would never forgive Barack for "what he did to our United States military ... [and] many other ways." Elite Daily reached out to Trump and Obama's teams for comment but did not hear back by the time of publication.
With all this turmoil and back-and-forth, I guess it's safe to say there won't be any more gift exchanges between the two, 'eh?