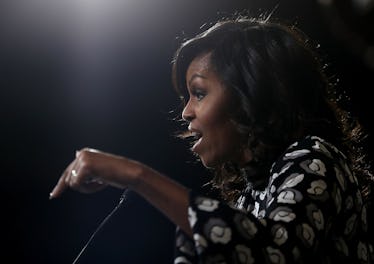 Michelle Obama Will "Never Forgive" Donald Trump For Those "Birther" Conspiracies
Justin Sullivan/Getty Images News/Getty Images
There's been a lot of criticism written about Donald Trump, from Stormy Daniels' Full Disclosure to Omarosa Manigault's Unhinged, but probably none as serious as what's in former first lady Michelle Obama's new book Becoming. Michelle Obama slammed Donald Trump over birtherism, accusing him of doing so in a deliberate attempt to stir up drama from the "wingnuts and kooks." Because of that, she says, she'll "never forgive" him. Yikes.
Let's quickly scale back to give you some context: Back in 2008, there were widely-circulated conspiracies that President Barack Obama was born outside of the United States. Over the years, however, the topic began to dissipate — until Donald Trump revived it in 2011. He often tweeted his belief that Barack, who was born in Hawaii, was not born in America and repeatedly called on him to produce a birth certificate proving otherwise. It went on until September 2016, when Trump finally admitted that Barack was, indeed, born in the United States. Elite Daily reached out to the White House for comment on Trump's "birther" comments, but did not hear back by the time of publication.
Two years later, Obama is hitting back at Trump for spreading those conspiracies. In excerpts obtained by The Washington Post, the former first lady called the conspiracies "crazy and mean-spirited," and slammed Trump for spreading falsehoods that put her family's safety at risk. She wrote:
The whole [birther] thing was crazy and mean-spirited, of course, its underlying bigotry and xenophobia hardly concealed. But it was also dangerous, deliberately meant to stir up the wingnuts and kooks. What if someone with an unstable mind loaded a gun and drove to Washington? What if that person went looking for our girls? Donald Trump, with his loud and reckless innuendos, was putting my family's safety at risk. And for this I'd never forgive him.
Oof.
Trump hit back at her shortly after, and he wasn't exactly saddened over Obama's claims. Speaking to reporters on Friday morning, he said:
I guess she wrote a book. She got paid a lot of money to write a book. And they always insist that you come up with controversial — well, I'll give you a little controversy back. I'll never forgive him [Barack Obama] for what he did to our United States military. By not funding it properly, it was depleted.
Trump added, "I'll never forgive him for what he did in many other ways, which I'll talk to you [reporters] about in the future."
There are a ton of other pressing topics related to Trump in the novel, from the infamous 2005 Access Hollywood tape, in which Trump bragged about grabbing women by their genitals. Obama also accused him of using his body language to "stalk" then-Democratic presidential nominee Hillary Clinton during an election debate in 2016. Video of the event showed Trump looming behind Clinton in what many people perceived as a menacing manner and quickly went viral online. While Trump has yet to address those comments, maybe they'll come about in the chat he declared to have in the future.
Until then, enjoy the book. It hits shelves on Nov. 13.