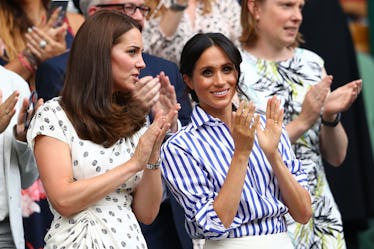 Meghan Markle's Wimbledon Outfit Had A Very Special Meaning For Prince Harry
Michael Steele/Getty Images Sport/Getty Images
Since Meghan Markle became the Duchess of Sussex when she married Prince Harry on May 19, she has been in the royal spotlight. Markle attended the Wimbledon tournament with her sister-in-law Kate Middleton on Saturday, July 14, and the two fashionable royals definitely dressed the part. Followers of Markle and Harry's courtship noticed that Meghan Markle's Wimbledon outfit had a very special meaning that was a nod to her first date with Prince Harry.
Markle didn't wear an "I <3 Harry" pin or anything like that, but her blue-and-white striped top and wide-leg white pants by Ralph Lauren served as a subtle throwback to the designer's role in their relationship, according to ELLE. Two years ago, Markle attended Wimbledon as a guest of Ralph Lauren while she was still mostly known for her role on Suits. The fashion house previously provided Markle with outfits to do press for the show — that's how she wound up at the 2016 Wimbledon tournament and became friends with Violet von Westenholz, who does PR for Ralph Lauren and also happens to be one of Harry's childhood friends.
The two women chatted during the 2016 Wimbledon tournament, and then Westenholz decided to play matchmaker for Markle and Prince Harry. The publication reported that Prince Harry shared with Westenholz that he was having a hard time finding a woman to date, and then she set Markle up on a date with him while she was in London for the tournament.
Talk about being in the right place at the right time. Of course Markle couldn't have known in 2016 that her blind date with Prince Harry would lead to her becoming the Duchess of Sussex two years later, but her Ralph Lauren ensemble on Saturday was a chic reminder that she can't forget where their love story began.
Per ELLE, Markle recounted details about their first date to BBC after they announced their engagement in November 2017. She shared:
It was definitely a set-up. It was a blind date. I didn't know much about him and so the only thing I had asked her when she said she wanted to set us up was, I had one question, I said 'Was he nice?'
Seeing as though the couple got married in May 2018, it appears that Harry qualified as a nice guy for Markle.
Harry also shared in their post-engagement interview with BBC that he was smitten as soon as he met Markle. He explained:
I'd never, never even heard about her until this friend said 'Meghan Markle.' I was like, 'Right okay, give me, give me a bit of background, like what's going on here?' When I walked into that room and saw her and there she was sitting there, I was like, 'Okay, well I'm going to have to really up my game here.'
It sounds Westenholz is quite the matchmaker extraordinaire.
There's also something so perfectly British about having your courtship with a prince begin during the Wimbledon tournament. Thanks to the American fashion house, Ralph Lauren, Markle's U.S. roots are represented in the beginning of their budding romance, too. Since their courtship (somewhat) started out at the Wimbledon tournament two years ago, it's no surprise that fans of the newest royal couple were on the lookout for the newlywed, Markle, to recognize that in some way.
Even though Harry wasn't in attendance at Saturday's Wimbledon match, their newlywed love was still totally on display thank to Markle's ensemble. The Duke and Duchess of Sussex aren't the only royals keeping the love alive though. Harry's older brother, Prince William, and sister-in-law Middleton turned an afternoon at Wimbledon on Sunday, July 15, into a day date. The Duke and Duchess of Cambridge looked so in love as they laughed and enjoyed their afternoon together.
When it comes to the royals and Wimbledon, love seems to be all around — in the best way possible.