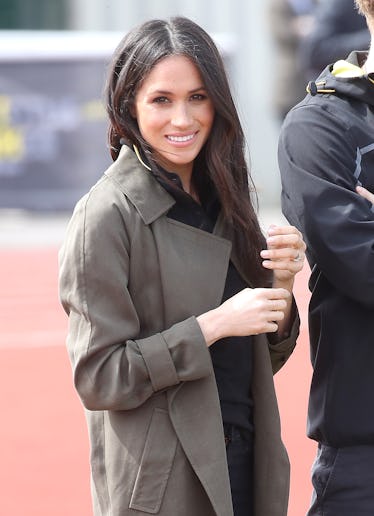 Meghan Markle Just Took A Trip To Chicago & Here's The Reason Why
Chris Jackson/Getty Images Entertainment/Getty Images
Celebrities: they're just like us! And apparently, they're not immune to the legal paperwork when it comes to applying for citizenship in another country. Proof? Meghan Markle, who is a United States citizen, has to apply for a UK visa, since she'll be doing a super non-important thing (like getting married) come May 19. And Meghan Markle's trip to Chicago was absolutely necessary before wedding Prince Harry, since an office in that location will help Markle take the necessary steps towards becoming a British citizen.
According to E! News, the actress flew to Chicago to complete her application for a UK visa. A palace source told E! News that "this marks an important step of the 'formal process' towards becoming a British citizen," and, despite the fact that Markle lived most of her life in Los Angeles, E! News reports that the reason Markle chose the Chicago office is possibly because that city's particular branch "offers a fast turnaround and a more discreet service for VIPs."
Sounds legit to me.
Markle must be feeling pretty jet-lagged, though, because she reportedly traveled back to the United States just weeks ago on April 4 for a secret trip to Los Angeles to visit her mom, Doria Ragland.
According to Good Morning America royal correspondent Omid Scobie, Markle managed to "quietly" duck out of the UK and head to Los Angeles just to spend some time with her mom before the big day. On Twitter, Scobie said:
Latest via @GMA: Sources tell me that Meghan Markle quietly jetted out of London last Thursday to spend quality time (and talk wedding plans!) with her mother Doria in Los Angeles ahead of her #RoyalWedding to Harry next month.
With only weeks left until the royal wedding, Markle managed to hop on a plane to go spend some much-needed girl time with her mother, who she openly talks about admiring. Of course she did, because she's an amazing human who we are not worthy of loving.
You don't have to say anything, Meghan. We love you just the same.
When you're close with your mom like Markle is, it's not a shock if you want to fly out to see her as you're approaching your wedding date. In an interview with Glamour in August of 2017, she talked about how important having her mom in her life is to her. She said,
My mom's a yoga instructor, but she does social work, as well, and she works specifically with the geriatric community. For me to watch this level of life-long sensitivity to nurturing and caregiving, but at the same time my mom has always been a free spirit ... We can just have so much fun together, and yet, I'll still find so much solace in her support. That duality coexists the same way it would in a best friend.
Clearly, Ragland's ways rubbed off on her daughter, because Markle is a national treasure who we all can admire. And I for one seriously can't wait for her to exchange vows with Prince Harry, especially because the pair have been breaking royal tradition left and right when it comes to their nuptials.
And most recently, the non-traditional couple have formally asked all of their wedding guests to send donations to charity in lieu of wedding gifts for their celebration, which makes me want to weep tears of happiness.
"Prince Harry and Ms. Meghan Markle are incredibly grateful for the goodwill shown to them since the announcement of their engagement and are keen that as many people as possible benefit from this generosity of spirit," Kensington Palace said in a post on the royal website. "The couple have therefore asked that anyone who might wish to mark the occasion considers making a donation to charity, rather than sending a wedding gift."
So sweet! So royal! So selfless!
Meghan, you go get that UK visa. Then, go marry your man. Then have royal babies, and live a royal life, and do badass things to help change the world.
But who are we kidding? That's all on her agenda already, so we don't have to worry one bit.