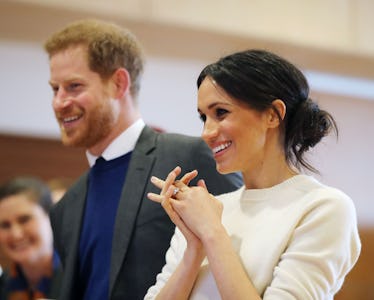 Meghan Markle & Prince Harry Might Be Visiting The U.S. For This Special Reason
Pool/Getty Images Entertainment/Getty Images
Prince Harry and Meghan Markle may be busy preparing for their upcoming nuptials, but that isn't stopping them from embracing their adventurous side. The royal couple will say "I do" on May 19, but their post-wedding plans might include a trip across the pond. That's right folks, Meghan Markle and Prince Harry might visit the United States in the summer, and it's for a great cause.
On April 5, Kensington Palace announced that Prince Harry would be a sponsor for "Walk of America," the latest trip organized by Support the Walk, an organization that aims to help veterans across the world find sustainable employment. According to Travel + Leisure, a team of six veterans from both the United States and UK will walk more than 1,000 miles from the West to East Coast over the span of 14 weeks in order to raise funds for veterans across the globe. Even though Kensington Palace didn't confirm that Markle and Prince Harry would be visiting the United States in honor of the walk, sources told Vanity Fair that the palace is already making plans for the couple's first overseas trip. Plus, Prince Harry will be kicking off the expedition on April 11 at an event in London, so it makes sense he'd be making an appearance in the United States.
We may not know for sure if the couple will be joining the excursion, but there's another piece of the puzzle that hints it's likely — the walk is set to start in Markle's hometown of Los Angeles. So that's exciting. Particularly since according to Vanity Fair, Markle really wants to show Prince Harry around the city after the wedding.
"Meghan wants to take Harry home once they are married on a formal tour," the source told Vanity Fair. "It's her home and she would love to go there with Harry after the wedding."
It's basically like hometown dates on The Bachelor except without the tears and dramatic limo rides.
Planning a royal wedding must be a stressful experience. However, once the two exchange vows on May 19, they have some plans to hit the road and travel a few places. According to sources, Prince Harry and Markle want to visit Canada after the wedding, reminiscent of William and Kate's trip in 2011. It's not too surprising that the couple wants to make a trip up north, since Canada's prime minister, Justin Trudeau, and his wife, Sophie Grégoire Trudeau are good friends of Markle's.
"Canada is on the cards," a source told Vanity Fair. "There's a lot of talk at a high-up level and among the powers that be that it will be the first country the couple visit."
Not only did William and Kate visit Canada in 2011, but they also made a trip out to California while they were there. So, if Markle and Prince Harry are mirroring William and Kate's trip, maybe a visit to Los Angeles isn't so implausible.
That trip is clearly very exciting, but it isn't the only spot these jet-setters plan on visiting after the wedding.
In October, Prince Harry and Markle plan to visit Sydney, Australia, to visit the 2018 Invictus Games, an event Prince Harry launched in 2014 for wounded and recovering service members from around the globe. The games are set to kick off Oct. 20 and run until Oct. 27, with featured events including volleyball, track and field, and others. On April 6, Markle and Harry oversaw the UK's trial runs, and I have to say that they were total couple goals rocking those matching black uniforms.
Naturally these games are important to Prince Harry, but what do these games and the couple's upcoming trip to Canada have in common? Well, Harry and Markle made their first public appearance as a couple at the 2017 Invictus Games.
These upcoming plans are exciting, but what I'm pumped about is this wedding that's about to happen. Elite Daily has the inside scoop on the invitations, flowers, dress, and guest list, but I won't rest easy until I see those two at that altar in St. George's Chapel.
No matter where these lovebirds jet off to, it's sure to be a lovely holiday.