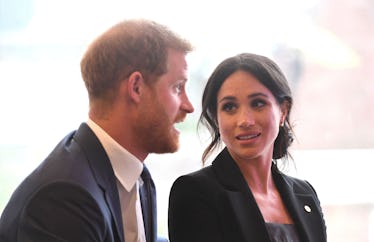 Meghan Markle's Relationships With Old Friends Are Reportedly Suffering For A Sad Reason
WPA Pool/Getty Images Entertainment/Getty Images
It's not easy being a duchess. I mean, it doesn't look like it is, anyway. The new Duchess of Sussex, Meghan Markle, is just four months into her role and with every passing day, it seems like a new level of drama finds her. Based on reports, Meghan Markle's relationships with friends are reportedly suffering for a real bummer of a reason. Essentially, it sounds like she doesn't know whom she can really trust given her new position. Unfortunately, that makes sense considering her current level of status and fame. Elite Daily reached out to Kensington Palace for comment on her personal relationships but they declined to comment.
It's no secret Markle left her life as an actress behind to jump feet first into British royalty. She and the Duke of Sussex, Prince Harry, have been nothing short of head-over-heels in love since they announced their engagement in November 2017. The following months proved to be a whirlwind for Meghan and Harry as they (and the world) prepared for their historical wedding in May. Truthfully, everything did seem too good to be true. Today, just 10 months after their engagement announcement, Meghan Markle's life seems to have changed in every possible way.
According to People magazine, Markle took a break from her new gig as duchess and jetted to Toronto in August to hang out with her close friend, Jessica Mulroney. (In another non-conventional plot twist, she took a commercial flight! Gasp!) However, according to a source, her social circle has gotten much, much smaller in the past few months. "Meghan has lost touch with some of her close friends from before the wedding, which has been tough," the source claimed. "She's finding it hard to know who to trust." The insider also pointed to Markle's family drama as one of her main stressors.
If you've been following Markle's journey, you know her father, Thomas Markle Sr., and her half-siblings, Thomas Jr. and Samantha Markle, have gone on the record to blast her and Prince Harry for neglecting them. Her father was heavily featured in the press leading up to the wedding for a variety of bizarre reasons including staging photos for money. In the end, he did not end up attending the nuptials and Prince Harry's father, Charles, Prince of Wales, ended up walking Markle down the aisle.
The conflict between her family and the subsequent relentless coverage in the media reportedly took a toll on Markle. The source said, "It was very wearing on her. It's her private life."
As for her current royal duties, Markle is gearing up for her first international tour Down Under beginning in October. The 16-day trip will take her and Prince Harry through Australia, Fiji, Tonga, and New Zealand. Ingrid Seward, author of the new biography of Queen Elizabeth and Prince Philip, My Husband and I, says it will be Markle's "chance to shine."
"She knows she'll be center stage, and everyone is going to want to meet her," Seward says. "It is her biggest part yet."
Hopefully, this period of change will level out soon for the Duke of Sussex and she will find her people once again.
In the meantime, if you need someone to call, Meghan. I'm here for you.