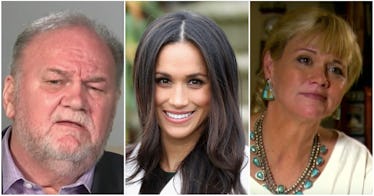 Meghan Markle's Relationship With Thomas & Samantha Was Different Before She Was A Royal
youtube/Chris Jackson/Getty Images Entertainment/Getty Images/youtube
Celebrity relationships and friendships are a rare breed. These famous faces have their lives played out in front of the masses, whether it's the good, the bad, or the straight-up shady. In Elite Daily's new series, It's Complicated, we're highlighting the biggest celebrity "feuds" that took over Hollywood and dominated our Sunday brunches for weeks on end. We'll take a deep dive into the lives and social media feeds of our favorite stars and dissect what happened in front of the camera, what went down behind the scenes, and everything you might have missed in between.
It's no secret that Meghan Markle's family is — like many other average families — a bit unconventional. But pretty big cracks started appearing in Markle's relationships with her family members — mainly with her father, Thomas, and her half-sister, Samantha Markle — as soon as her engagement to Prince Harry was revealed. And sadly, it looks like much hasn't changed since she became the Duchess of Sussex. But at one point before the possibility of becoming a duchess even crossed Meghan's mind, Meghan Markle's relationship with Thomas and Samantha Markle was much, much different, so perhaps there's hope that this family will one day reconnect and get along once more.
Let's take a look at Meghan's relationship before and after she became the Duchess of Sussex.
Thomas Markle and Meghan Markle: Then
There was once a time when Meghan Markle beamed about her father, who was a TV lighting director for Married ... with Children. In 2013, Meghan told Esquire about how she used to play on the set of her dad's job and was proud to see his name roll by on the credits. She said,
Every day after school for 10 years, I was on the set of Married ... with Children, which is a really funny and perverse place for a little girl in a Catholic school uniform to grow up. There were a lot of times my dad would say, 'Meg, why don't you go and help with the craft services room over there? This is just a little off-color for your 11-year-old eyes.' ... I wasn't allowed to watch it at home. I could watch the end credits so I could give the screen a kiss when I saw my dad's name go by.
Meghan also spoke at length about her childhood with her father, and what it was like to grow up in a biracial family. In an interview with Elle back in 2015, she reminisced about a Christmas memory and the thoughtful gift her father had given her. "On Christmas morning, swathed in glitter-flecked wrapping paper, there I found my Heart Family: a black mom doll, a white dad doll, and a child in each color," she wrote. "My dad had taken the sets apart and customized my family."
OK, well, that is probably the most precious thing I've ever heard.
Thomas Markle and Meghan Markle: Now
We've all seen the recent headlines about Meghan's father: the fact that he staged paparazzi photos right before the royal wedding; the rumors that he allegedly faked a heart attack to get out of walking his daughter down the aisle and avoid any further embarrassment; and, most recently, his public on-air appearances that Meghan reportedly had no warning about.
It's reported that Meghan's relationship with her father has changed entirely since becoming a royal, which is understandable, considering all of Thomas Markle's publicity stunts.
A close friend to Meghan reportedly told The Daily Mail back in August that "a reconciliation is completely off the table at the moment," adding, "There's no chance right now — he's been a complete embarrassment."
Another source told The Daily Mail that Meghan is "upset" with her father for a multitude of reasons, and that fans should be empathetic to Meghan, not Thomas:
Of course Meghan is upset with him. Her father missed her wedding. He missed walking her down the aisle all because of that ill-conceived publicity stunt ... It was really just such poor judgement on his part. Now everyone's feeling sorry for him. They shouldn't. He brought this upon himself and if he were truly sick Meghan would have made an effort to visit him. Don't feel sorry for him. If anything, feel sorry for Meghan.
While it's clear that there's a ton of tension going on between Meghan and her father, perhaps they both just need a bit of time to cool off and, hopefully, move on in a positive way.
Samantha Markle and Meghan Markle: Then
Samantha Markle is the half-sister of Meghan, but when they were children, Samantha said that they simply saw each other as siblings. In an interview with Good Morning Britain in May of 2018, Markle reminisced about her childhood with Meghan.
"You know, people don't understand we were very much integrated into each other's lives," she said. "She was the baby in our household, we never addressed each other as half-sister ... We had the same father, she was in our lives. We had two households, there was a bridge. We were united."
But some sources close to Meghan note that she and Samantha may not have been as close as she made their relationship out to be.
Yikes.
Which leads us to...
Samantha Markle and Meghan Markle: Now
While Meghan has never confirmed the closeness of her relationship with her half-sister, a source close to Meghan told People:
Meghan has no relationship with her half-siblings, nor has she ever had one ... They were out of the house by the time she was born.
The "they" the source was referring to was both Samantha and Meghan's half brother, Thomas Jr. — but it's pretty obvious that Meghan doesn't have much of a relationship with him, either.
So, while it looks like Meghan and her family have a long way to go, here's to hoping that the family can get back to a good place in the future, especially if royal babies are going to come into play.