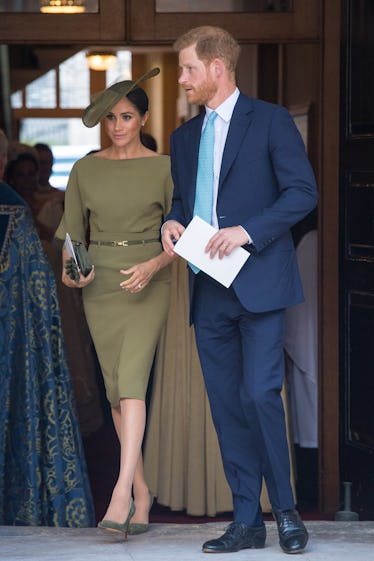 Meghan Markle Wore One Color Head To Toe At Prince Louis' Christening & I'm Green With Envy
WPA Pool/Getty Images Entertainment/Getty Images
If you thought Meghan Markle's fashion moments ended after her wedding dress debuts (plural, because there were two), you'd be so wrong. The Duchess' style is more influential than ever, and she continues to impress. Meghan Markle's look at Prince Louis' christening is the newlywed's latest outfit and, let me tell you, it's divine AF.
In case you need a refresher, Prince Louis is Prince William and Kate Middleton's third-born child, which also makes him Prince Harry and Markle's nephew. As they are so closely related, Markle and her hubby were at Prince Louis' christening on Jul. 9. The royal naming ceremony took place at Chapel Royal at St. James's Palace in London, which is also reportedly where Markle was baptized earlier this year.
Unsurprisingly, all the members of the royal family in attendance were dressed to the nines, Markle in particular. The Duchess of Sussex has recently been wearing very neutral colors, including her beige cape dress on her first solo outing with the Queen, a beige coat-inspired dress at the Young Leaders Reception, and a beige dress at Prince Charles' 70 birthday party – see a pattern here? She did throw in an excitingly bright yellow dress at the "Your Commonwealth" event, but other than that, it's been neutrals all the way. Her most recent ensemble is somewhere between those to vibes, however, and I'm glad to see her exploring new styles – take a look!
Markle's favorite color du jour: green! Her look is monochrome, with mostly olive green pieces. The dress is by American (she's going back to her roots!) designer Ralph Lauren.
Eagle-eyed fashionistas have speculated that Markle's dress was a bespoke creation based off of a similar Ralph Lauren gown. Bespoke is a polite way of saying custom and expensive AF, but you can get a similar look with Closet London's Tie Front Dress With Kimono Sleeve ($53; asos.com).
Markle accessorized her dress with a tonal green clutch, gloves, and Manolo Blahnik BB Pumps ($625; barneys.com). She also wore a matching green hat by famed British milliner, Stephen Jones (fun fact of the day: Milliner is just a fancy British word for hat-maker).
Auntie Meghan's hair was slicked back into a low bun and her makeup gave her a gorgeously natural look. It appears the only jewelry she wore were her engagement ring, wedding band, and a small pair of stud earrings. The dramatic sleeves on her dress were fancy enough, perhaps. Prince Harry also looked dapper in a navy suit and teal tie. He, too, accessorized with his wedding ring.
Middleton also looked impeccable, it was her son's christening, after all. The Duchess of Cambridge wore a white Alexander McQueen dress (one of her favorite designers), a matching white Jane Taylor fascinator, and floral-shaped pearl earrings.
Prince George and Princess Charlotte looked just as adorable as I expected. Charlotte wore a blue and white floral-printed dress with a matching blue headband and Mary Jane shoes. A style star in the making if I ever saw one!
Kensington Palace's Twitter account was kind enough to post a video of everyone's arrival at the royal christening, and while the focus of the day was meant to be on Middleton and her son, most of Twitter things that Markle stole the show.
"Meghan looks great, nice color to not take attention away from the event and still look good!!" Fans were quick to praise Markle's fashion choice for being fun and stylish but not too overbearing.
So true. So breathtaking.
Heart eyes to the max.
One admirer commented, "Meghan Markle slaying in Ralph Lauren 🔥." Her look is straight fire, slay girl.
S. L. A. Y.