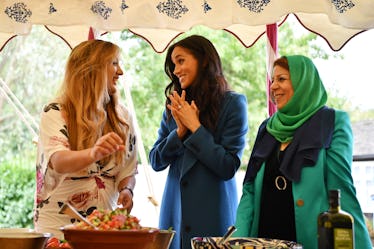 Meghan Markle Revealed Her Refreshing Perspective On Food In Her First Royal Speech
WPA Pool/Getty Images Entertainment/Getty Images
You remember Meghan Markle, right? You know, the former Suits actress who stole the heart of Prince Harry? The woman who is now living the real-life fairytale everyone hopes and dreams about? Well, in case you haven't heard, the now-Duchess of Sussex is doing just fine, thank you very much. In fact, she recently gave her first ever public talk since earning her duchess status, and Meghan Markle's first royal speech about food for Together, a charity cookbook she's worked on in collaboration with the Hubb Community Kitchen in London for the past nine months, proved to be the perfect public debut. It probably shouldn't surprise me that Markle's delivery was spot-on, and yet, here I am, floored by this woman's ability to stay cool, calm, and collected in front of all of those people, not to mention her hottie of a husband, and all without notecards to boot. If anyone wakes up flawless, I'm pretty sure it's Meghan Markle.
Prior to her engagement to Prince Harry, once upon a time Meghan Markle ran her own lifestyle blog called The Tig, in which she wrote about food, and travel, and she was even known to post the occasional food pic on Instagram from time to time. Alas, duchess duty calls, and that meant wiping her social media slate clean. Clearly, Markle's appreciation for food hasn't dwindled, though, seeing as how her first order of business in London was to get busy in the kitchen with the women of the Hubb Community.
It couldn't have been easy for Markle to just up and move out of Hollywood, out of the country, and start fresh in a new community, let alone do it all as a royal. But, luckily for the love of Prince Harry's life, Markle was able to find comfort through the warmth and kindness of these women from the Hubb Community Kitchen, whom the duchess thanks right off the bat in her speech. "Working on this project for the past nine months has been a tremendous labor of love," Markle said. "I just recently moved to London and I felt so immediately embraced by this kitchen — your warmth and kindness, and also to be able to be in this city and to see in this one small room how multicultural it was."
For Markle, food doesn't just make a meal; it marks a history. The 37-year-old royal described Together: Our Community Cookbook as a volume of 50 recipes contributed by women whose lives had been greatly impacted by the June 2017 Grenfell Tower fire (all proceeds from the book will be donated to those who were affected by the tragedy). To Markle, these recipes represent the women and families who'd endured a traumatic part of London's history, and in coming together to celebrate the launch of the cookbook, those in attendance were also celebrating something bigger, something hopeful: togetherness. Markle said in her speech,
When we get to know the story of the recipe, you get to know the person behind it. That's what we're talking about in terms of coming together to really engage and talk and to be able to celebrate what connects us rather than what divides us. That, I believe, is the ethos of Together.
And, if you even entertained the thought that Markle would be someone who just signs her name to a project without actually putting any heart or soul into it, you'd be wrong, my friend. Markle actually wrote the opening passage for Together, in which she opened up about what her involvement with these women was really like. She wrote,
On my first visit, I asked Munira, the resident chef de cuisine (so to speak), how I could help. An apron was quickly wrapped around me, I pushed up my sleeves and found myself washing the rice for lunch. I immediately felt connected to this community kitchen; it is a place for women to laugh, grieve, cry and cook together. Together is more than a cookbook. This is a tale of friendship, and a story of togetherness. It is a homage to the power of cooking as a community, and the recipes that allow us to connect, share and look forward.
After the fire, a group of women settled into a west London community kitchen to cook for their families and neighbors who'd been affected. In a Twitter video on the Kensington Palace account, Markle narrated their story, and those involved were invited to share their insight, too. One woman explained that "Hubb" means "love" in Arabic, and through their cooking, these women truly believe they are sharing love and a sense of togetherness with one another. And so, the Hubb Community Kitchen was born, a place where, Markle said in her speech, 12 countries were represented in one group of women. "It's pretty outstanding," she said with a smile.
Markle concluded her speech by thanking the women of the Hubb Community Kitchen for welcoming her into the space, and for allowing her the privilege to work alongside them to create not only this cookbook, but their shared friendships. If this speech is any indication of what's to come from Markle's reign as Duchess of Sussex, there's no doubt in my mind that she's definitely going to be one royal to watch.