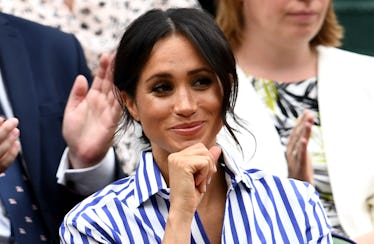 Meghan Markle Is Helping To Release A New Cookbook For The Most Inspiring Reason
Clive Mason/Getty Images Entertainment/Getty Images
Food isn't only the way into someone's heart — it's also the perfect way to bring communities together. Well, it looks like the Duchess of Sussex is taking that knowledge to heart, because Meghan Markle's charity cookbook is not only a "how-to" guide to cuisine, but it's also benefitting a great cause. Bon appétit!
On Monday, Sept. 17, Markle announced that she would be helping out with releasing a new charity cookbook, Together: Our Community Cookbook, which is set to come out on Thursday, Sept. 20. The cookbook features 50 recipes from women whose lives were impacted by the June 2017 Grenfell Tower fire that killed 72 people and left many more displaced. Therefore, all proceeds from the cookbook will go directly to help those impacted by this tragedy.
According to Entertainment Tonight, Markle met with her fellow chefs in West London's Al Manaar Muslim Cultural Heritage Centre this summer, and the group of women enjoyed some quality time cooking and getting to know one another in the center's Hubb Community Kitchen.
Even though it's no secret that Markle is a foodie herself, the new duchess is also penning the opening statement of the cookbook. In her passage, Markle recollects the first few moments of meeting the women and being in the kitchen, and how everyone was immediately ready to get to work. She wrote,
On my first visit, I asked Munira, the resident chef de cuisine (so to speak), how I could help. An apron was quickly wrapped around me, I pushed up my sleeves and found myself washing the rice for lunch. I immediately felt connected to this community kitchen; it is a place for women to laugh, grieve, cry and cook together. Together is more than a cookbook. This is a tale of friendship, and a story of togetherness. It is a homage to the power of cooking as a community, and the recipes that allow us to connect, share and look forward.
I don't know about y'all, but I have no doubt that this cookbook is sure to share tasty treats and delicious recipes for all of us to enjoy. After all, Markle may be known now as the Duchess of Sussex, but previous to being a royal, the former Suits actress was quite the passionate foodie herself. In fact, Markle's old lifestyle blog, The Tig, was actually filled with delicious recipes for viewers to enjoy. Markle started the blog in 2014, and even though she sadly called it quits in 2017, delicious recipes from the blog's "food" section can still be found online, ranging from hearty crispy chicken stew to refreshing coconut chai smoothies.
Even though we may never see Markle appear on those highly entertaining "celebrity chef" cooking shows, I have to admit that this cookbook venture goes to an incredible cause and offers a fresh perspective on global cuisine. I personally can't wait to get my hands on this cookbook, maybe it'll even awaken the undiscovered chef in me?
Markle may be considered a duchess, but to me she's a queen. Make sure to grab your copy of this one of a kind cookbook when it hits stores on Sept. 20.