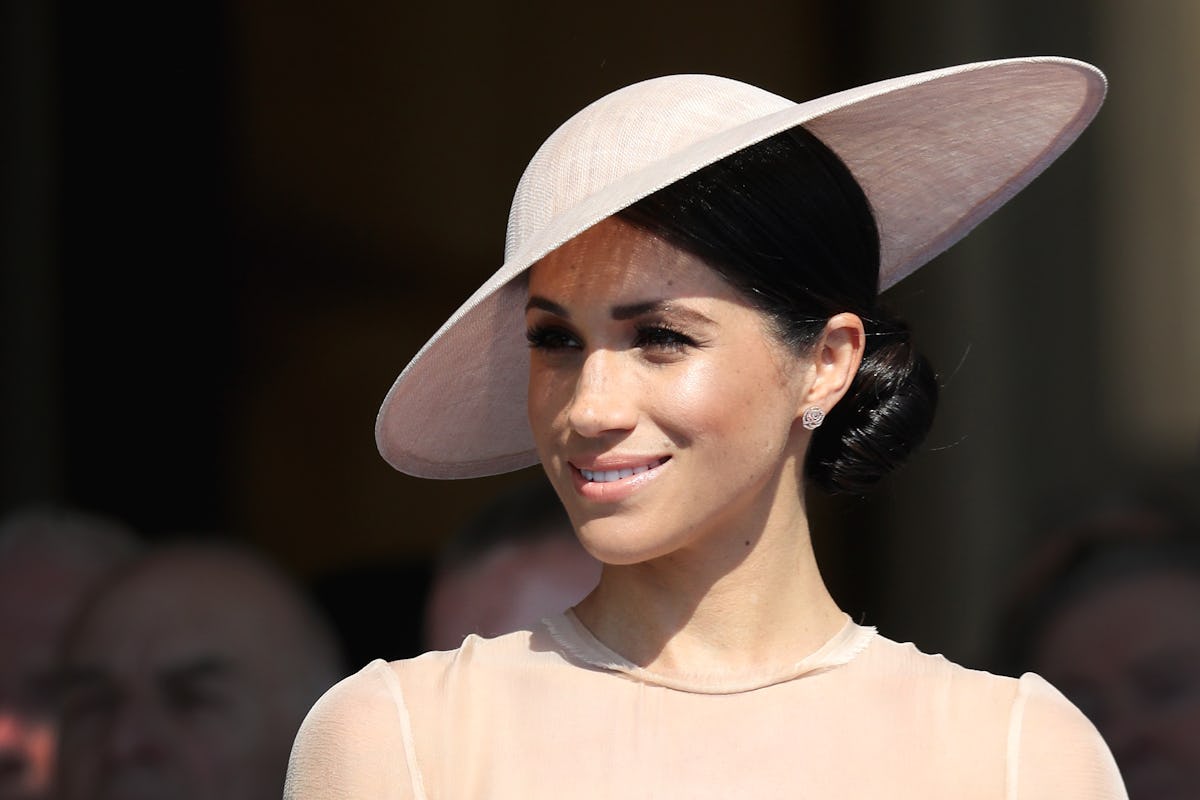 Meghan Markle's Ex Is Going To Be A Dad & This Is Everything You Need To Know
Chris Jackson/Getty Images Entertainment/Getty Images
I'm happy for Meghan Markle and her happily-ever-after, real-life fairytale but I have to say I can't help but feel extremely bad for any of her exes. Usually, it's a toss-up as to who actually "won" the breakup but, when your ex marries the freaking PRINCE OF ENGLAND, there's no real question as to who just dominated the breakup. I would probably just curl up in a hole and die if that was my fate, but Meghan's exes seem to be doing just fine. In fact, Meghan Markle's ex Cory Vitiello is having a baby with Dragonette singer Martina Sorbara, according to Us Weekly.
But let's back up for a second here. Who is Cory Vitiello? Well, for starters, he's a celebrity chef. So, yeah, Harry may be able to make Meghan a duchess, but can he make her a five-star meal like Cory can? Probably not!
Meghan and Cory got together following Meghan's divorce from her ex-husband Trevor Engelson in 2013. The two dated for a while after Meghan's divorce until they ultimately split and went their separate ways. But unlike her bitter split from Engelson (who's currently developing a sitcom based on their relationship with Fox), Meghan's breakup with Cory seemed to be amicable. In fact, Cory made it clear to the Daily Mail in April that he wishes his ex nothing but the best.
"I'm pleased for Meghan. She's a great girl," he told the publication. "There is no bitterness. I respect people's private and personal lives, and although she has put herself in the public spectrum, I still hold to that." Wow, what a standup dude.
This take on respecting her privacy, of course, stands in stark contrast to her ex husband Trevor Engelson who, as I mentioned above, is literally producing a TV show based on the dissolution of their marriage. According to Town & Country, the pitch for his "fictional" show literally reads: "Divorce is hard. Sharing custody is harder. Sharing custody with the British Royal family when your wife marries a prince, in the unforgiving spotlight of London's tabloid media, is next level." Sound familiar? Thought so.
No matter how her exes feel about respecting her privacy, one thing we know for certain is that they're both moving on. Just this past Friday, 41-year-old Engelson announced he popped the question to his nutritionist girlfriend Tracy Kurland. He made the announcement via Instagram where he reportedly captioned a private post, "Luckiest guy I know! Get ready to party."
And now a source exclusively shared with Us Weekly that Vitiello is expecting his first child! Cheers to all of Meghan's exes for not allowing her nuptials to Prince Harry totally destroy them.
As for Meghan and Harry, children aren't currently on the way but there's a very high chance they will be sometime in the near future. "Not, not currently no. No, of course you know," the prince told BBC when the subject of kids came up. "I think you know one step at a time, and hopefully we'll start a family in the near future."
UGH PLEASE LET THAT BE IN THE VERY NEAR FUTURE! I, personally, would love to have a little half-American royal baby crawling around Buckingham Palace.
Above all else, I hope we all can take Trevor and Cory's stories as a beacon of hope next time any of us regular people are going through a particularly treacherous breakup. If they can get over their ex marrying the prince of England and suddenly becoming one of the most famous people in the world, I think we have a fair shot at getting over our annoying ex who won't stop posting annoying engagement pics with his new BAE.
Check out the "Best of Elite Daily" stream in the Bustle App for more stories just like this!