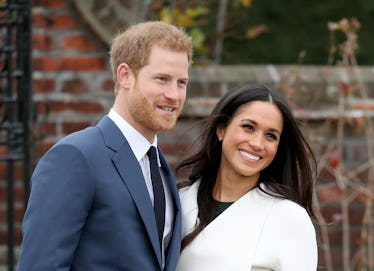 Meghan & Harry's Daughters Can Never Be Duchesses & The Reason Why Will Enrage You
Chris Jackson/Getty Images Entertainment/Getty Images
The world is still reeling from that incredible royal wedding just a few weeks ago. As royal wedding fever begins to die down, reality is setting in and the world is wondering about what'll happen when the Duke and Duchess of Sussex, Prince Harry and Meghan Markle, start having children. What will Meghan and Harry's kids' titles be? And how far down the line are they from the throne? More importantly, will their kids be little dukes and duchesses, or something else entirely? Well, there's one thing we know for sure: Prince Harry & Meghan Markle's daughters will never be duchesses. And I'm about to explain why.
So, everyone knows that Harry and Meghan were granted special titles by the Queen on their wedding day. Now that they're married, Harry and Meghan will forever be known as the Duke and Duchess of Sussex. Naturally, their future children should inherit similar titles as well, right? Well, not so fast.
According to People, dukedom can only be inherited by a male heir. So, any future sons that Harry and Meghan have are apparently all set in terms of their official titles. But their daughters would not be given the title of duchess. Instead, they'd have to marry a duke themselves in order to be granted that official title.
Elite Daily reached out to Kensington Palace for comment on this story, but has not heard back at the time of publication.
Basically, Harry and Meghan would have to adhere to the stringent rules of the patriarchy. Something tells me Meghan isn't exactly going to be down for that.
Interestingly enough, the so-called dukedom of Harry and Meghan's family would die out completely if the couple doesn't produce a son. But can that be changed?
Actually, it can! Well... maybe.
In recent royal family history, changes have been made to accommodate both male and female heirs. For example, the Succession to the Crown Act 2013 allows birth order to determine which heir will become the next king or queen. In times past, however, future monarchs were determined mostly by gender. So, if a female was next in line to the throne and her parents gave birth to a son, then she would no longer be next in line; her brother would be instead.
It was actually the aforementioned 2013 piece of legislation that allowed Princess Charlotte to become fourth in line to the throne. Had it not been in place, little Charlotte would have lost her place in line to Prince Louis, who was born April 23.
So, with all that said, it is possible that the royal family will bend the rules a bit to accommodate any daughters Harry and Meghan might have.
Meghan is a staunch feminist, after all. Her biography on the monarchy's website reads, "I am proud to be a woman and a feminist," which references a speech she made during International Women's Day at the UN.
With Meghan's feminist roots firmly in place, it's very possible that the British monarchy will make a few exceptions for any daughters Harry and Meghan have in the years to come. I can imagine Meghan making a strong case for it if she's passionate about the issue. She's done that before and it's doubtful that being a royal will shake her resolve.
For the most part, though, the royals stick to their guns about these things and often give priority to boys of the family. With any luck, any future daughters of Harry and Meghan will be secure enough in themselves to stand tall without such a fancy title.
While the jury's out on all that, though, Harry and Meghan's future children will officially be known as lords and ladies.