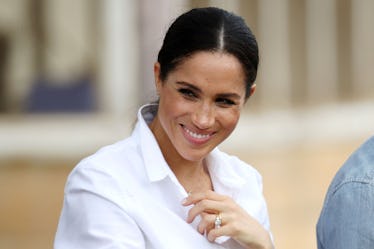 Meghan Markle Adds This One Delicious Ingredient To Her Homemade Banana Bread
Chris Jackson/Getty Images Entertainment/Getty Images
It's no secret the new Duchess of Sussex is a Jane of all trades. Aside from being a most humble humanitarian and graceful public speaker, Meghan Markle is also masterful in the kitchen, which I'm sure Prince Harry appreciates. After all, they say the way to a man's heart is through his stomach, but Markle knows everybody loves dessert, so to make a sweet first impression on day two of their Australian royal tour, Meghan Markle's banana bread was served among a spread of goodies and tea at the Woodley family-run farm in Dubbo. I mean, could she be anymore of a sweetheart?
And, for the record, not only did Markle just casually whip up a batch of homemade banana bread in the kitchen of Sydney's Governor-General's Admiralty House, she also did so as a pregnant woman battling jet lag — take that, Betty Crocker.
Her royal highness also generously gifted the family a tin of Fortnum & Mason Royal Blend tea for sipping and slice dipping because, really, what's dessert without a spot of tea? Not even six months in, and already Markle's got that whole British tradition down pat.
Obviously the Woodley family loved the royal couple's delicious gift, but I'm almost positive Twitter loved it even more.
What makes Meghan Markle's banana bread so special isn't just that she herself baked it with love; the ingredients she adds for a little extra oomf are spot on. First of all, Markle might have gone a little overboard with the banana-to-every-other-ingredient ratio, but according to a tweet by arts and royal correspondent at the Daily Telegraph, Hannah Furness, the Duke reassured his Duchess that there's no such thing as too many bananas, so that was adorable AF, not to mention completely true. But anyway, back to the royal recipe.
A basic banana loaf is made from things like flour, ripe bananas, butter, sugar, baking powder, etc. — you know, the usual base for a kind of cake-y dessert. But to set hers apart from all the rest, per BuzzFeed News, Markle adds in a sprinkle of chocolate chips and slices of fresh ginger. Talk about a game changer, amirite? I mean, my mom and I also add chocolate to our banana bread because it's just way better that way, but ginger? Now that's something I have to experiment with.
Loyal fans of the actress-turned-royal probably aren't all that surprised at the former Suits star's baking skills, though. Once upon a time, before the mother-to-be said "I do" to her handsome prince, Markle was quite the Insta foodie, and ran her own lifestyle blog called The Tig, covering all things travel, fashion, beauty, and, of course, food. But alas, Duchess duties call, and this real-life Cinderella was asked to shut down the site to ensure the couple's privacy. Lucky for us, the internet archive Wayback Machine dug up some past pages of The Tig, so you can still make and share Markle's recipes. From what I can tell, it seems like Markle is keeping her signature banana bread recipe secret, but her pumpkin fondue and spelt anzac biscuits look delightful.
Even though Markle had to say goodbye to The Tig, in a way, she was just trading one labor of love for another. As her first order of business as a royal, Markle partnered up with the women of The Hubb Community Kitchen to create Together: Our Community Cookbook. The volume features 50 recipes, all of which were contributed by women whose lives have been greatly impacted by the June 2017 Grenfell Tower fire. To help those in need, all proceeds from the book will be donated to those who were affected by the tragedy. In her first public speech as royal Duchess, Markle said,
When we get to know the story of the recipe, you get to know the person behind it. That's what we're talking about in terms of coming together to really engage and talk and to be able to celebrate what connects us rather than what divides us. That, I believe, is the ethos of Together.
They say a picture's worth a thousand words, but this one loaf of banana bread seems to tell its own story, about a young woman who married into royalty, who is still very much a woman like you and me, who loves to bake and spread love through food. Obviously Markle and Prince Harry have yet to invite me over for banana bread and tea, so I can't vouch for the way a slice of the stuff tastes, but what I do know is this: The world could use more women in power like the Duchess of Sussex, and that baby onboard is lucky to have a mama like Markle.