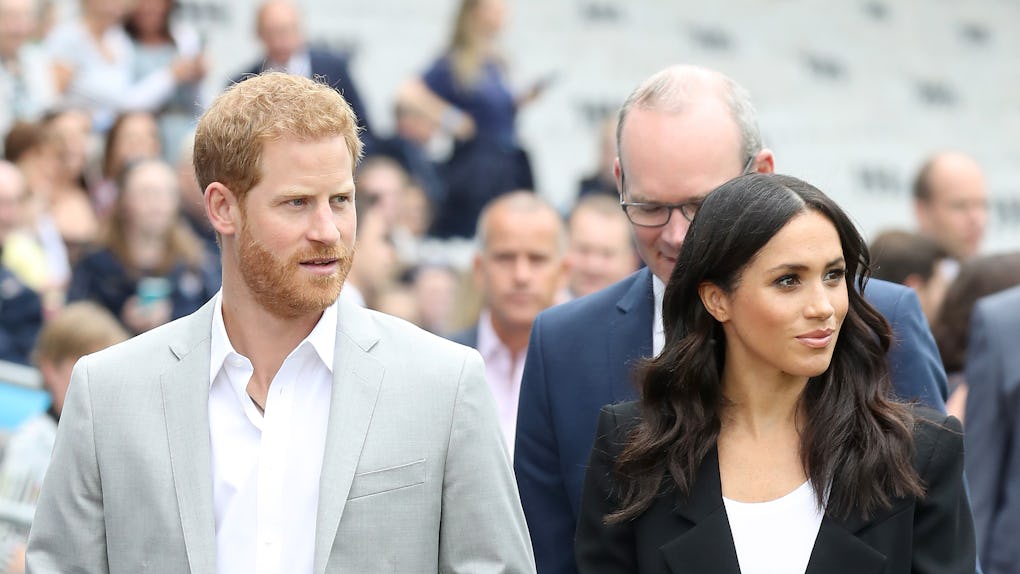 Chris Jackson/Getty Images Entertainment/Getty Images
Meghan Markle & Prince Harry's Reaction To Friends Talking To The Press Is Understandable
Can Meghan Markle and Prince Harry just have ONE moment of peace? Clearly, the answer to that question is a solid no, because it seems like the Duke and Duchess of Sussex just can't catch a break when it comes to being dragged into the spotlight of the media. While it's completely understandable for two royals to be consistently in the public eye, what's not understandable is the fact that Meghan Markle's strained relationship with her family is being brought up time and time again — and that friends close to the couple may be the people behind the speculation. Honestly, Meghan Markle and Prince Harry's reaction to friends talking to the press makes so much sense, and it would be something any average person would do, too.
According to Vanity Fair reporter Katie Nicholl, the drama occurring in Meghan Markle's family has put Prince Harry on high alert, reportedly urging those close to him not to speak with anyone in the media for any reason.
A source told the publication:
They both expect a code of silence. If you talk to the press you're out. Harry didn't used to care that much about what was written [in the press], he just said it was a load of shite, but he's very protective of Meghan and defensive these days.
Elite Daily has reached out to the Palace for comment on the report, but did not hear back by the time of publication.
But it's so understandable why the Duke and Duchess of Sussex are going on lockdown in terms of their friendships. When you have such a private matter, such as family issues, being aired out in public, you want to do everything possible to keep the matter contained.
Royal editor Camilla Tominey told Nicholl that Harry and Meghan have also "been extremely upset by Thomas Markle's behavior and that of Meghan's half-sister, Samantha, and other relatives speaking out to the press. If the royals value one quality in others more than anything else then it is loyalty, and the couple will feel very let down by what's happened."
Long story short: If you're friends with Prince Harry and Meghan, then stop the gossip, fam! Despite the fact that these two are literally royalty, they seem like two people who want to be as private and low-key as possible — meaning that staying out of the press is their main goal that unfortunately does not seem attainable anytime soon.
Vanity Fair also reports that the Duke and Duchess will be spending the rest of the summer at a rented farmhouse in the Cotswolds so that they can spend some time out of the spotlight.
A local told the publication:
It's very clear they want to be private and left alone. The property is in the middle of woodland and you wouldn't know it was there. It is very remote which is why they like it. It's like a fortress. There's a huge security presence, you can't get close.
So to anyone who wants to try and invade Prince Harry and Meghan Markle's space: Leave. Go. Scram!
Let them enjoy their newlywed bliss on their own, and let's leave their private matters to them, and them only.
OK, be gone!