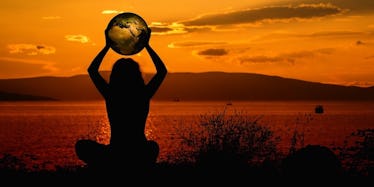 When Stress Runs High, Here's How Each Zodiac Sign Should Meditate To Find Their Center
Some days it can feel like you're a living, breathing ball of stress, and it honestly seems like nothing will silence the chatter in your mind. You've heard that meditation works wonders, but TBH, where the f*ck do you even start when it comes to incorporating the practice into your busy lifestyle? If you want to begin clearing your mind, learning the best form of meditation for your zodiac sign could be an amazing place to start.
According to a study from Harvard, adding just a few minutes of mindful meditation into your day can provide significant relief from stress and anxiety. And, even though it may seem like it on the surface, meditation isn't a difficult concept. It simply involves sitting comfortably, focusing on your inhales and exhales, and bringing your mind's attention to the present moment.
Of course, I totally get that sitting still and silent for minutes at a time, with all of the distractions of the modern world fighting for your attention, can be way more difficult in practice than in theory. But that's where astrology comes into play. Tapping into your zodiac sign, and being in touch with your positive and negative characteristics can help you find the type of meditation that is best for you.
So, when you've had the longest day in the world and your stress levels are off the charts, here's how your zodiac sign should meditate.