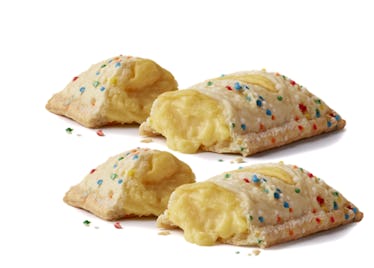 McDonald's Holiday Pies Are Finally Back To End 2018 On A Sweet Note
McDonald's
While I love spending time with family, decorating Christmas cookies, and participating in gift exchanges, let's be real — my number one favorite part of the holidays is pigging out at the dessert table. But after many years of gorging myself on endless amounts of apple pie, pumpkin pie, chocolate peppermint-flavored everything, I'm looking for a new sweet treat to snack on. And if you, too, are looking for a new festive dessert, McDonald's 2018 Holiday Pies are finally back, and they're better than ever. Get ready for the most festive sugar high of your life.
If you've never had a McDonald's Holiday Pie, your life is about to be changed forever. According to the McDonald's website, the base is comprised of a flaky buttery crust, wrapped around a deliciously rich layer of vanilla custard, which oozes out the second you bite into it. On top is a saccharine sugar glaze, which is neatly decorated with bright, colorful sprinkles. It quite literally looks like a treat you might spot a fairy snacking on; it tastes just like Christmas; and it's only available for a limited time during the 2018 holiday season at participating U.S. restaurants, according to McDonalds. TBH, I could go for one (or like, 10) right about now.
OK, do you see what I'm seeing? That gooey vanilla filling, and that buttery, delicate crust. I seriously don't think I can take much more of this torture — I need one of these babies ASAP.
Anyway, it should come as no surprise that Twitter is going absolutely HAM for this limited time treat. Everyone seems to be incredibly stoked for the return of McDonald's Holiday Pie, whether they've been longtime fans or if they're merely first-timers. I completely see where everybody is coming from, though — the Holiday Pie is straight-up gorgeous, it looks tasty AF, and most importantly, it's finally back in action for the holiday season. I cannot contain myself RN, and neither can the Twitterverse.
LOL, nobody can contain themselves right now, and it's so, so relatable. This is how I usually feel when the beloved fast food chain releases the Shamrock Shake around St. Paddy's Day... March could not come sooner, y'all.
Oh, and if you do decide to venture out into the blustering cold weather for a highly-anticipated McDonald's Holiday Pie, make sure to snag yourself a McCafé Peppermint Mocha for a cheery holiday sip, while you're there. It combines cool, delightful peppermint with warm, rich chocolatey flavors, and honestly, it actually tastes like happiness in a to-go cup. I don't know about you, but the pie and the drink together seriously sound like a dream come true.
Alright guys, for real — McDonald's is killin' it right now with all of the festive holiday treats. Between the chain's absolutely delectable Holiday Pies and the crave-worthy McCafé Peppermint Mochas, there are very few places I'd rather be right about now. Merry Pie-mas to all, and to all a good night.