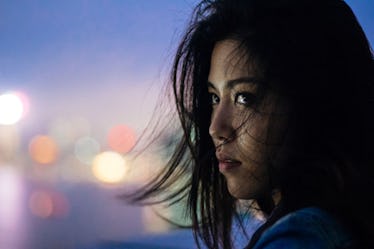 These 3 Zodiac Signs Will Have The Worst Week, But These Growing Pains Are For The Best
Although change is a necessary part of life that brings you closer to fulfilling your destiny, it's not always easy. In fact, it rarely ever is. At first, the change might feel intimidating, difficult, and even lonely. It's only after growing accustomed to a new situation that the benefit of the change becomes apparent. But that can take quite a while, which is why, starting May 14, 2018, this will be the worst week for these zodiac signs: Libra, Scorpio, and Sagittarius. For these three signs, the change that's bound to occur this week will probably involve a lot more stress than they're prepared for.
With Uranus, planet of revolution and sudden progression, making a weighty move into Taurus after seven years of being in Aries, these three zodiac signs are bound to experience a shock. While this doesn't mean their entire world will fall apart, it does mean they might feel like the rug has been pulled out from under them. However, once they get up, dust off their knees, and lift their chin up, they'll remember their spirits are truly unbreakable. Once they see what these new possibilities in life have to offer, they're guaranteed to feel like the change was for the best.
If all this news about Uranus has you frightened, don't worry. Mars, the planet of motivation, energy, and passion, makes a healing move into Aquarius on May 16. Venus, planet of romance and harmony, will also soak your heart in love as it moves through Cancer on May 19. And of course, the week saves the best for last, as the sun finally enters giggly and flirtatious Gemini on May 20.
Libra: You're Going Through A Time Of Dramatic Transformation
Uranus is making a move into your eighth house of death, regeneration, and rebirth, where it will remain for the next seven years. Don't panic! OK, you can panic a little. All this means is something important in your life will come to an end, only to be replaced by something much better. However, the advantage of this change might not be clear to you at first, so be patient. And, as scary as the eighth house sounds, it's not all bad. You're also bound to enter a revitalizing period of sexual rejuvenation, filled with passion and a rediscovery of your sexuality.
Take comfort in the planetary aspects that will steady you through the transition. First off, Venus, your career planet, makes a move into your 10th house of social status, which will infuse your career with sparkling energy after a long drought. Mars will also move into your fifth house of pleasure in a compatible air sign, Aquarius. This will nudge you into a period of lighthearted, carefree fun.
Scorpio: Your Love Life Might Be On Rocky Territory
Your seventh house of partnerships will receive thrilling (albeit unpredictable) energy from Uranus as it moves into Taurus. This can take your relationship to a place of total trust and stability, or shatter it to pieces so that it can be rebuilt (or, unfortunately, let go of).
Whatever ends up happening will ultimately bring your love life to the place it's meant to be. I know it's extremely hard for you to move on from something you cared deeply about. However, while breakups are a terrible pain, sometimes it's for the best.
Don't get too worried, though, because this transition may not be bad at all! Since Uranus is your family planet, the fact that it's moving into your seventh house of partnerships may signal a serious move in your relationship. It could mean marriage, moving in together, or even becoming parents to a new puppy.
Sagittarius: Your Job And Health May Be Jeopardized
This week, you may be smacked in the face by the realization that it's time to grow up and get serious. With Uranus leaving your fifth house of pleasure behind for your sixth house of health, it's not all fun and games anymore. In fact, Uranus pouring unstable energy into the sixth house may challenge your job situation and your well-being. The fact that Venus, your health and work planet, is also moving into the eighth house of death and rebirth, only makes matters all the more serious.
These transitions are going to help you develop better habits and refine your perspective on life. Nothing is ever certain, and your understanding of this uncertainty will help you become far more resilient and resourceful. There's no better time than now to pause and reevaluate your priorities.
Stay positive, however, because at the end of the week, the sun will enter your seventh house of partnerships. You may just find yourself falling in love with someone who loves you back.