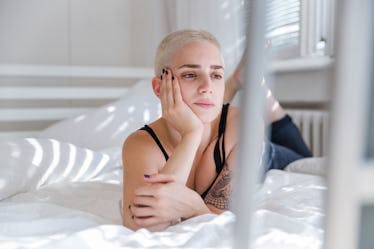 These 3 Zodiac Signs Will Have The Worst Week, But There's A Catch
When a horoscope says you're about to have a bad week, you probably experience one of two potential reactions: You either blow it off completely and declare that horoscopes are a bunch of new age hogwash anyway, or, you board your door up and hide away from the rest of society. In a sense, both are the wrong choice. A critical horoscope is only asking you to be more thoughtful when making decisions in life. Not all of your impulses should be trusted, and not everything you believe is necessarily true. We could all use a reminder to think twice before taking action, and sometimes, we need to see a situation from a different perspective. Keep that in mind when I tell you that as of May 7, 2018, this will be the worst week for these zodiac signs: Virgo, Libra, and Pisces.
If your sign made the cut, don't worry; you've got this. It's not that the planets will come crashing down on your world. It's more like the planets still have a lot to teach you. As long as you trust that there is a lesson to be learned at the end of every challenge, there's no reason why you shouldn't be able to enjoy the journey.
Virgo: You Might Have Unrealistic Expectations
You may feel like nothing is enough this week. More specifically, you may feel like you're not enough. With the sun still pouring energy into your ninth house of philosophical and intellectual growth, you're already eager to accomplish more. However, when the sun opposes Jupiter, ruler of expansion and development, you're may feel like its that much harder to keep up with all the standards you've set for yourself. One minute, your ego may cause you to feel superior and the next, you might feel worthless. As long as you find middle ground between working hard and having a well-deserved rest, there's nothing you can't handle.
You may also might find yourself trusting the good in a lover, while also ignoring their shortcomings. With Neptune, your love planet, squaring Venus, you might not be seeing a tricky situation in your relationship with the clarity it deserves. Remember to make sure you're not seeing only what you want to see.
Libra: You're Going To Have To Make Some Changes
You may be having a tough time financially lately with Pluto, your money planet, in the midst of retrograde, while Jupiter retrograde also wreaks havoc in your second house of money. However, don't lose all hope yet. With the sun forming a trine with Pluto, you may have a sudden shift in your perspective that will help you see your situation in a positive, motivating light. Instead of feeling down on yourself about your income right now, focus on what you can do to fix it. Also, keep in mind that you might feel tempted to overspend and overindulge as a form of distraction this week when the sun opposes Jupiter. Buckle down and have some self-control.
With Venus, your ruling planet, squaring Neptune, you might also see your life through a distorted lens this week. Things are not as bad as they seem. Remember to snap yourself out of it when you hurt your own feelings with hypothetical situations and irrational thoughts.
Pisces: You Might Have Too Much On Your Plate
With the sun in your third house of communication, I wouldn't be surprised if you're clambering to keep up with every social event, running your mouth at the speed of light, and depleting all your energy while doing it. When the sun opposes Jupiter this week, there's a chance you'll feel exhausted by your extraversion while also feeling like you just desperately need to be around other people. Try not to let the way everyone else sees you dictate the way you feel about yourself. If you need to take a rest, there's nothing wrong with a quiet night at home to recharge. Your true friends will always be there waiting for you.
There's also a chance that you'll have trouble trusting others with Venus squaring Neptune, your ruling planet. You may feel like not everyone is being as sensitive as they should be when you open up to them. Remember to only be vulnerable with people that you know would never hurt you.