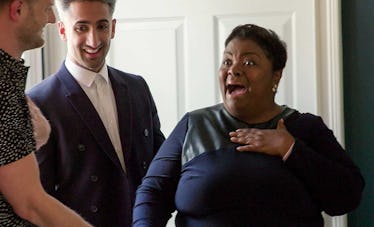 All Of The 'Queer Eye' Heroes Met Up At Mama Tammye's Church, So Grab A Tissue Box
Netflix
They already made us ugly-cry on Netflix, and now the Queer Eye heroes are at it again. Over the weekend, a big group of the men and women who were made over in the two seasons of Queer Eye met up at one of the show's most iconic locations: Mama Tammye's church community center. Keep a tissue box nearby when you see these pictures from Mamma Tamye's Queer Eye meet-up, because you will definitely get emotional.
This weekend's Queer Eye meet-up was definitely the biggest group of the show's heroes in one place ever. The group included standouts from Season 1 — such as Neal Reddy, Bobby Camp, Cory Waldrop, and Joe Gallois — as well as favorites from the show's second season — Jason, William Mahnken, Sean VanMeter, Skyler Jay, and of course, Mama Tammye and her son Myles. Of the 16 heroes that Queer Eye has featured, only seven were unable to make it down to Mama Tammye's church, which is definitely an impressive turnout! The group all posed for photos with one another and traded stories about their transformative experiences with Queer Eye's Fab Five: Jonathan Van Ness, Karamo Brown, Tan France, Antoni Porowski, and Bobby Berk. They were even treated to some music by Sean, the Season 2's aspiring musician.
Check out the photos of the Queer Eye heroes all hanging out together over the weekend below:
According to the Instagram captions, this meet-up was largely set up by Mamma Tammye, her son Myles, and Skyler Jay. After the big meet-up, Jay shared a powerful note about the event, saying that his family grew after meeting his fellow heroes and credited Queer Eye for bringing such a diverse group of people together who may have never known one another if not for the Netflix series. Jay also promised more meet-ups like this in the future, hopefully with even more of the heroes as well as new heroes from future seasons of Queer Eye.
The group will not have to wait too long for even more heroes to bond with, because the Fab Five have already been filming the upcoming third season of Queer Eye. Pretty much right after Season 2 aired, Netflix announced back in July that the makeover series was picked up for a Season 3, which would move the Fab Five from the Atlanta, Georgia area where they filmed the first two seasons to Kansas City, Missouri. Since they started filming in June, it is safe to assume that Queer Eye Season 3 is already a wrap, but fans should not expect the new season to debut until sometime in 2019 — no official release date has been announced.
From this lovely meet-up, the new Queer Eye heroes are clearly joining a big family, and we can look forward to seeing more of these emotional reunions moving forward. Maybe next time Jonathan, Tan, Antoni, Karamo, or Bobby might be able to fly out and meet up with everyone, too! Look for Season 3 of Queer Eye to drop on Netflix sometime in 2019.