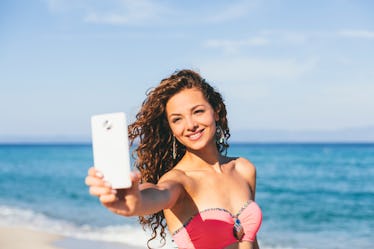 This Hotel Offers An Instagram Butler To Help You Rake In The Likes On Vacation
Let's be honest: If you're not going to share vacation pictures on social media, what's the point of bringing your phone on the trip? A new location provides the perfect opportunity to skyrocket your following, and in this digital age, you'd be remiss not to take advantage of the golden hour on the beach. Now, a Maldives hotel offers an Instagram butler, so it's time to blow the socks off Insta users who spot you in their feed.
The five-star Conrad Hilton Resort on Rangali is taking the social media game to new levels. Can't quite figure out where to take the best shot? Not a problem — your Insta butler will guide you to an appropriate location. Need an idea for fun activities? Let your butler inform you about Instagram Trails, excursions with photo-worthy aesthetics, including everything from atolls to the best restaurants. Basically, this is every millennial's dream vacation perk.
Not only will you get a taste of all that the location has to offer, but you'll learn how to really connect with your followers. The Insta butler will help you gain attention on social media with the best poses and spots for a photo op. With the help of the Instagram butlers, these staffers will also help you take stronger photos for your next adventure, so even if your future hotels aren't equipped with social media-savvy butlers, you'll figure out how to make the most of the destination.
Now, there are more opportunities than ever to take advantage of your trip... and share those updates with your virtual fan club. TripAdvisor and The Weather Company unveiled a new feature in The Weather Channel for Samsung App, that provides a personalized itinerary based on the forecast for your location. Luckily, if you can't get that golden hour selfie because of torrential downpour, this new feature will allow you to take advantage of what's in the area, rain or shine. Prepare for a different type of #vacation photo. According to a press release sent to Elite Daily,
The new app feature uses machine learning to analyze calendar events, forecasts, and more than 830,000 TripAdvisor attractions to provide users with recommendations on historical sites, museums, various points of interest, and relevant activities within a 25-mile radius.
All in all, you're going to have plenty of options to snap now, regardless of the forecast. Realistically speaking, a rainy day selfie would definitely spice up your profile, anyway.
If you're looking to book a ticket ASAP, there's a few things to consider. First and foremost, we're coming into a busy holiday season, so you're going to need to stay abreast of the cheap flights and when to book 'em. Anything that offers a little comfort for your wallet is much appreciated.
Keep in mind the date. Halloween is getting closer and closer, and if you're dying to snap a spooky selfie in a real-life haunted house, you're going to want to book your tickets ASAP. Perhaps the spirits guarding the particular location would be willing to hold your phone while you prep for a good photo. Fingers crossed the ghosts have good manners.
Regardless of where you're wanderlust will take you next, there is good news. No matter where you go or what type of trip you book, you'll have the option to really take full advantage of the destination (and its photo ops) thanks to Scott's Cheap Flights. Elite Daily spoke exclusively with founder Scott Keyes, who tells us,
Scott's Cheap Flights doesn't take any commissions or kickbacks; by virtue of our subscription model, we can act solely in subscribers' interests and only send them deals we genuinely believe they should know about.
Time to rake in the deals and the Insta likes. Happy traveling.
Check out the entire Gen Why series and other videos on Facebook and the Bustle app across Apple TV, Roku, and Amazon Fire TV.