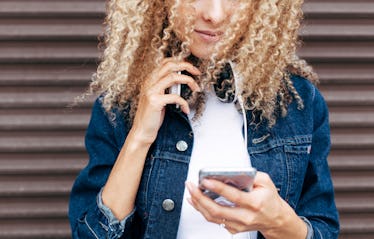 New Travel App Gives You Things To Do Based On The Weather & Makes Wanderlust So Much Better
You can pick your vacation spot, but unfortunately, you can't pick the weather. When the sky turns and clouds roll in, most travelers typically opt for a day inside ordering room service — but now there's a reason to get out of the hotel (even when the forecast isn't to your liking). A new travel app feature gives you things to do based on the weather, so you won't be terribly upset if it rains on your parade. Here's how to use the TripAdvisor feature on The Weather Channel app.
That's right: TripAdvisor and The Weather Company just unveiled a new feature in The Weather Channel for Samsung App, that provides a personalized itinerary based on the forecast for your location. Even when an umbrella is in order, opportunities abound. According to a press release sent to Elite Daily,
The new app feature uses machine learning to analyze calendar events, forecasts, and more than 830,000 TripAdvisor attractions to provide users with recommendations on historical sites, museums, various points of interest, and relevant activities within a 25-mile radius.
You'll realize that a day on the beach with a piña colada at hand is not the only option for your time away from home. As tempting as those order of fries might be, skip the room service and indulge in plans that were picked just for you. (Hey, it's better than sitting in bed and sulking).
"We know that certain purchasing behavior, travel arrangements, and daily decisions can be directly tied to the weather. Knowing when to change picnic plans to avoid a storm or when to plan an outdoor excursion when it's going to be sunny can make or break an experience," said Domenic Venuto, the vice president and head of consumer division at The Weather Company. "Pairing our weather insights with their point of interest and activity recommendations provides people with unique weather-based adventure ideas."
The Weather Channel for Samsung app — specifically designed for Samsung smartphones, including the Galaxy Note8, Galaxy S8 and Galaxy S8+ — allows users to tap on a particular offering that they find interesting. From there, vacationers are taken to TripAdvisor's website for additional information such as reviews and booking options. Are you really going to forgo a trip to the museum to stay under the covers?
Now is the perfect time of year to cross a few spots off your bucket list. Locations across the country — including the gorgeous Hawaii — are offering oh-so-lovely wine festivals, and they're a must for you and your BFFs. Before the holiday craze sets in, take one last time to enjoy a little relaxation... or a glass of vino.
If you have more adventurous plans in mind, it's time to embrace all-things Halloween. Haunted houses across the U.S. are vacant and ready for visitors... or are they already occupied? Whether you're going on lockdown in Philly or touring the paranormal activity of a school in Ohio, there's plenty of ways to get your spook on, and TripAdvisor and The Weather Channel Company's new app feature will give you options to enjoy before the screams.
So there's plenty to look forward to — from spooks and scares, to sips of wine. Additionally, according to the press release obtained by Elite Daily, the Weather Channel Made for Samsung App will continue to grow. It reads,
With the expansion of the platform, The Weather Channel invites other service providers to connect with its app users in new and engaging ways, while helping them better understand people's interests.
Not that you need any further convincing that a small holiday is in order, but here it is. Happy planning.
Check out the entire Gen Why series and other videos on Facebook and the Bustle app across Apple TV, Roku, and Amazon Fire TV.