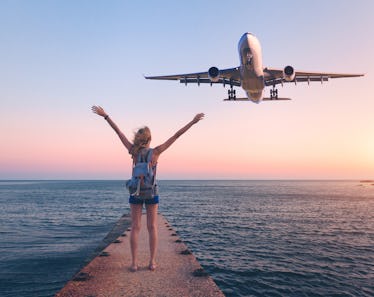 Scott's Cheap Flights Is The Key To Taking Your Travel Obsession Global While Not Killing Your Wallet
On bucket lists worldwide, there are many scribbles about traveling somewhere internationally. The explorers in us all jump for joy when we see pictures of the Maldives, Barcelona, or anywhere else that ignites curiosity in us. But then, we look down at our pockets turned inside out, and we realize our travel dreams won't pay for themselves. Scott's Cheap Flights has seemingly reversed that slow head nod toward your wallet when wanting to travel internationally, and has brought solutions right to your email. Elite Daily spoke exclusively with founder Scott Keyes to get the lowdown about Scott's Cheap Flights.
It sounds quite simple and nothing short of awesome, doesn't it? It really does. Keyes actually started this as a hobby in 2013 to help his friends, and turned it into a business back in the summer of 2015. Now, he and his team search the internet for cheap international flights, and if you're signed up, you'll get those prices sent directly to your inbox. There are two kinds of subscriptions — the free subscription and the premium subscription. The premium subscription goes for a rate of $15 for three months, $25 for six months, or $39 for 12 months — which is less than you would spend on coffee, right?
The site also has fare information for flights leaving from Australia, New Zealand, Asia, Europe, Canada, and more. There are about two to three deals sent out on a daily basis to premium subscribers originating in the USA and Canada. If you opt for the free subscription, you will only get a third of the deals sent out per day. This isn't bad, since spam is probably one of the worst things to get in your email (aside from those corny "turn in your timecard" memes from your boss). In fact, not being spam-like or solely driven by commission is something Scott Keyes says makes his company stand out from the rest.
He tells Elite Daily,
Scott's Cheap Flights doesn't take any commissions or kickbacks; by virtue of our subscription model, we can act solely in subscribers' interests and only send them deals we genuinely believe they should know about.
This means that they aren't shoving the cheapest thing in your face so you can purchase and make them money, in addition to having to sort through your email every day. Yes, there certainly is light at the end of the tunnel.
As far as booking is concerned, these aren't last-minute deals that have you running around your room looking for your travel sweatpants. Typically, the deals are for about two to eight months prior to jetting off, if you're traveling internationally. That's definitely enough time to come up with a game plan. While the site is very resourceful, they can't necessarily give you specific flight advice for your trip, but Keyes has an ebook for tips, called How To Find Cheap Flights.
Keep in mind as well that the site can't narrow down deals to your specific travel dates, but I'm sure the excitement of getting a killer deal will help you move some things around. The majority of the services for this site cater to international flights, but for subscribers residing in the U.S., there are sometimes deals sent for Hawaii, Puerto Rico, and Alaska.
Good deals are what we live for, and to have them delivered right to our email seems like all we can ask for, right? Well, according to Keyes, more advancements to accessing the site are on their way.
He explains,
We're on the cusp of a light design refresh and will be rolling out a revamped web app and new mobile app soon with increased customization so people only get deal alerts they're interested in.
Many people on the company website have shared their testimonials and expressed how these deals helped them check things off their bucket list, celebrate special occasions, or even help manage travel plans for a company. So, if you're looking to travel internationally, good deals could be in your future.