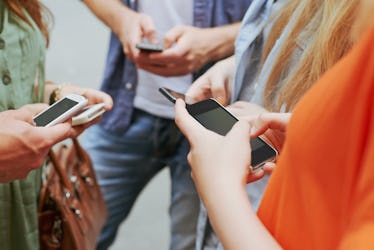 What 7 Women's Dating App Profiles Looked Like When They Found A Relationship
Over the last several months — especially since becoming a dating writer — I'd started to believe that crafting the perfect dating app profile was a science, not an art. Both data and my own personal experiments had shown that things like mentioning guacamole, laying a few thirst traps, and throwing a dog pic into the mix were sure to increase your matches — but were they more likely to increase the odds of finding a real-life boyfriend or girlfriend? (In my case: Hard no.) And if not, what was the trick to building a dating app profile to find a relationship, instead of one that would only boost your number of matches? After all, when it comes to dating, I think we're all aiming for quality over quantity.
I spoke with several women who met their current SOs on dating apps to find out what's in their secret sauce. And evidently, there isn't really a secret sauce at all when it comes to finding a compatible partner on a dating app. Everyone has a different idea of what makes "the perfect person," you know? That said, there are a few tricks to building a profile that showcases your interests while simultaneously weeding out guys or girls who wouldn't be a great match (both literally and figuratively).
Here's what seven women's profiles looked like when they landed their current partner. Maybe their dating app success and savvy will help you land ~the one~ as well!
This woman included some details that were sure to start a conversation (an interesting conversation, at that).
Right before I met my boyfriend, I had just added 'feminists only, please.' I was tired of getting into convos with men who didn't get it or who started arguing with me when I brought up feminism. People loved bringing up Texas when I messaged them and that was important to me to have in there because I think making it in New York City from Texas on my own was one of my favorite things about myself.
—Brittany, 26
This woman showed potential matches what she didn't want.
When I met my boyfriend, my bio included some emojis I can't even discern (they just look like gibberish now), the words BU '15, and then said 'I don't like hockey players' on the next line. Short and sweet.
—Annika, 23
This woman's story is a meet-cute for the digital age.
When I first started my job as a dating editor at Elite Daily, I would use Tinder to find sources for my stories. I would swipe right on everyone, then send a first message along the lines of, 'Hi! I'm a writer working on a story about dating app usage. Can I ask you a few quick questions?' I wanted to get as many matches as possible for the sake of the story, so honestly, I only uploaded thirst traps where I looked really cute — like, dolled up in a dress and heels, a plandid on vacation, that kind of thing. My strategy worked. I first met my boyfriend, Saul, when he swiped right and gave me a quote for a story.
To be honest, it was a pretty brief quote and he never responded to my follow-up question. I figured it would get too confusing to date anyone from Tinder while using it for work, so I used other dating apps in my personal life. A week after interviewing Saul on Tinder, I ran into him again on another dating app, where he happens to work as an iOS engineer. We've been together ever since.
—Hannah, 24
This woman combined thirst traps and humor like an evil genius.
I'd been on various dating apps for around two years when I met my current boyfriend. My profile said, 'You should message me if... You want to do adult things with me. *Whispers* Taxes. *Panting softly* Pays the mortgage. *Moans* Makes sure we turn the lights off, our utility bill was $300 last month.' Oh, and one shallow thing to admit, I always made sure to include one picture with cleavage because boys are dumb (but it works). My now-boyfriend messaged me and quizzed me on Will Smith quotes and we went out a few days later. Our one-year anniversary is in just a couple weeks!
—Michelle, 25
This woman created a profile that showed exactly who she was.
When I met my boyfriend, my profile was absolutely an honest snapshot of who I am. I didn't try to hide anything or depict any version of myself that I wouldn't be IRL. I felt really strongly about doing that! I really have only ever had one dealbreaker in dating: He must be taller than me. Anything else, I'm open to. So naturally I wanted to include that in my profile. The rest of my profile just includes information about me that I feel gives a good snapshot of who I am: my personality type, where I'm from, and a little joke to further describe me. As for pictures, I always had a little bit of a hard time picking them because I don't photograph well (I look better in person, ha). But I made sure my first picture was a clear photo of my face and the second was a clear photo of what my body looked like. The rest are more personality pictures!
—Alexia, 24
This woman's profile captured her ambition and smarts.
I actually work for a dating app, and my profile showed that I was a director at the app by day and a dater by night, in addition to a ton of info about my career and education.
When I saw [my boyfriend's] profile come up in my feed, I immediately took a screenshot and sent it to my sister with a text that read 'Omg, I want to date this guy, he's so cute.' It was his warm smile, his soft eyes and photos with his family that really drew me in. When we first met, our chemistry was pretty apparent, but more importantly, we were unbelievably compatible when it came to career aspirations, academic ambitions and overall values.
—Meredith, 25
This woman used food and alcohol to build a connection.
I had a picture of me eating a sandwich and like scarfing it down on a canal in Amsterdam and another of me having a stein of beer at Oktoberfest. My boyfriend sent me a message and said, 'When you're done with that beer can we talk?'
—Elyse, 24
This woman used her internationality to her advantage.
I met my current boyfriend not long after I moved to a new city in France, and he says he remembers me having like USA and French flag emojis in my bio (so embarrassing!). I also had some sort of clever quote in English, I think I was hoping that an intelligent French guy would actually understand the quote and that's how I'd weed them out. My boyfriend was the first person that I had an actual conversation with... He proposed a Franglais 'language partnership' in person. We eventually met up, and the rest is history!
—Abby, 24
Go on, girls — get that digital meet-cute of your own!
Quotes have been condensed and modified for clarity.
Check out the entire Gen Why series and other videos on Facebook and the Bustle app across Apple TV, Roku, and Amazon Fire TV.
Check out the "Best of Elite Daily" stream in the Bustle App for more stories just like this!