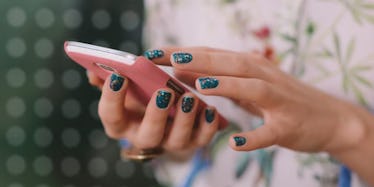 Experts Say These 5 Things On Your Dating App Profile Explain Why You Match With Terrible Guys
I am kind of convinced that no one reads the bios on dating sites anymore.
I am actually so convinced that I once put "I love DRAMA, Burning Man, and am ready to have babies like, yesterday!" on my Bumble profile. Only two men noticed, and only one knew it was a joke.
My first writing job was actually helping a professional dating and relationship coach ghostwrite profiles for her clients. Men who were workaholics became "driven," and women who had successful careers became "passionate about their hobbies" as not to intimidate or emasculate their suitors (Barf.)
It was an interesting peek into gender stereotypes, what attracts us to one another, and most importantly, what kinds of words and pictures attract the wrong kind of people.
I reached out to Lori Salkin, matchmaker and dating coach, and online dating expert Julie Spira to figure out what exactly we should be putting in our dating profiles to get the kind of guys we want and deserve. If we're really looking for love, then we need to present ourselves accurately to the world and online, right?
Plus, Spira tells me that 70 to 80 percent of people on dating apps are actually looking for long-term, meaningful relationships.
So here's how to fix your profile to really find the guys who want to settle down and to avoid the sh*tty ones.
You let your best guy friend pick your photos.
According to Spira, men are visual creatures, so most likely, your guy best friend will choose photos where you look your hottest — not ones that reflect your actual personality or that make you seem approachable — if you leave it up to him.
If you're the girl-next-door type, don't let your guy BFF talk you into putting scandalous pics online just because you look great in them, especially if they're not an indicator of your true personality.
You have too many bikini pics.
Want to post that bathing suit shot? Think twice, Spira advises.
While you might have looked amazing on that one vacation you took in Cancun, "don't be surprised if you [match with] a sexter."
You get what you put out into the world, so if you're putting up pictures of yourself in glorified lingerie, you'll most likely get someone who only ever wants to see you in lingerie — not someone who wants to introduce you to their parents.
You're not real in your photos or bio.
"If you are a quiet, introverted academic who wants to attract a likeminded, focused professional, do not describe yourself as someone who loves to party and goes out to bars and clubs all the time. Even though it may make you sound cooler, the truth is, you would never work with a guy who is a partier," Salkin explains.
So for example, Salkin says if you are a sorority girl who loves the nightlife, talk about how you "work hard and play hard." But don't post pictures of yourself doing something like camping, or you might snag yourself a lumberjack who has no interest in a late night out with you.
You don't show a range of photos of yourself.
Salkin also advises that while you might love yoga, not all your pictures should be of you drenched in sweat and wearing Lululemon pants. Put up a collection of pictures that give viewers an accurate portrayal of your day-to-day life. But remember, authenticity is key.
"If you are not a downhill skier but took one pic once... that looks super professional but is totally inaccurate, don't post it as if to say your favorite activity is skiing," Salkin says.
You're totally unfiltered.
Apparently, filtering your photos on dating apps can actually be a good thing to do, as long as you don't go too far, according to Salkin.
"Don't hesitate to run the pics through your Instagram filter once or twice. As long as your pictures truly look like you, it's OK," she says.
But maybe don't go too crazy on Facetune or Photoshop. She jokes, "Don't we all love a guy who is totally bald, but only posts pics from 10 years ago with a full head of hair."
So when it comes to online dating profiles, it turns out that accuracy is key. If you're truly looking for a relationship, then you need to portray yourself authentically online...
But don't be afraid to run your photos through an Instagram filter or two if you want to first.