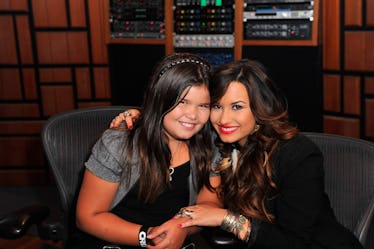 Demi Lovato's Little Sister Opened Up About Her Rehab Progress In The Most Honest Way
Alberto E. Rodriguez/Getty Images Entertainment/Getty Images
It's been just over two months since singer Demi Lovato was reportedly hospitalized after reportedly overdosing on opioids in her home in Hollywood Hills, California. After her reported two-week hospitalization, Lovato was then reportedly admitted to a live-in rehab facility, and on Sunday, August 5, she finally broke her silence about the entire ordeal on her Instagram account. And now, sister Madison De La Garza's comments about Demi Lovato prove that progress is being made and how hopeful the family is about her well-being.
Actress Madison De La Garza, who is Demi Lovato's little sister, made an appearance on Millennial Hollywood with Dakota T. Jones on Tuesday, Oct. 2, and revealed how her big sis is doing in rehab after her reported overdose.
"Demi's doing…she's doing really well," De La Garza said. She then spoke about how the family has all rallied behind Lovato, showing support and strength in her time of need:
She's working really hard on her sobriety and we're all so incredibly proud of her… It's been crazy for our family. It's been a lot. Um but we've been through a lot together and every single time, I mean if you read my mom's book you would know… Every time we go through something, we always come out on the other side a hundred times stronger than before. And so we've just been um we've been so thankful for everything. For the little things.
It sounds like Demi Lovato has a pretty incredible support system, which must be so unbelievably helpful. De La Garza then talked about what she'd like to do with her sister once she's returned from rehab. "I guess I'm really excited to… I mean there's so many little things. It sounds so small, but go to [frozen yogurt spot] Menchie's… Honestly, I'm more of a Pinkberry person, but she likes Menchie's and so we like we usually go there," she said.
I'm just going to say this right now: Sisters are the absolute best and we should cherish them at all costs. OK? OK.
Honestly, it's just so nice to hear an update about Demi Lovato's health. We did hear from her mother, Dianna De La Garza, on Wednesday, Sept. 19, after Diana De La Garza participated in an interview with Newsmax TV about learning the news of her daughter's reported overdose, and the difficult aftermath that came along with it. Before she even knew of Lovato's reported overdose, Diana said she started receiving an endless amount of text messages from people who were sending her family hopes and prayers. "I was in shock," Diana said. "I thought, 'What is going on?'"
Diana says she learned that TMZ was the first outlet to break the story, and while she was searching for more information online, Lovato's assistant, Kelsey, called her. "She was rambling, like she had obviously been through something terrible," Diana said. She continued:
She said, 'Demi overdosed.' So, I was in shock. I didn't know what to say. It was just something that I never, ever expected to hear, as a parent, about any of my kids. I hesitated to ask, but I had to ask her... I said, 'Is she Ok?' And, she stopped for a second, and she said, 'She's conscious, but she's not talking.' And I knew at that point we were in trouble.
In her interview, Diana De La Garza said that Lovato "was in bad shape" when she arrived at the hospital. "I said to her, 'Demi, I'm here. I love you.' And at that point she said back to me, 'I love you, too.' From that point on, I never allowed myself to ever think that things weren't going to be okay."
When asked about Lovato's current condition back in mid-September, Diana De La Garza said, "She's happy. She's healthy. She's working on her sobriety, and she's getting the help she needs."
With such positive updates from both Demi Lovato's mother and sister, I'm excited to hear that she's continuing on her path of progress and recovery. Her family is undoubtedly there for her every step of the way, and her fans have been showing all of their support for the singer — and whenever she's ready, we'll all welcome her back to the spotlight with open arms.
If you or someone you know needs help with substance abuse issues, you can reach out to the Substance Abuse and Mental Health Services Administration (SAMHSA) National Helpline at 1-800-662-HELP (4357).