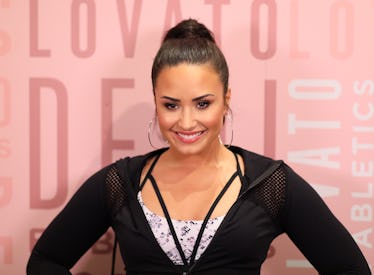 Fans Are Sending Demi Lovato Emotional Words Of Support After Her Reported Overdose
Jean Baptiste Lacroix/Getty Images Entertainment/Getty Images
Brace yourself, this is not good news. On Tuesday, July 24, Demi Lovato was reportedly hospitalized after a reported heroin overdose, according to TMZ. If the story is true, it's terrible news for the star, who has openly struggled with addiction issues — but her fans aren't letting her go through it without support. These tweets about Demi Lovato's reported overdose are sending her so much love, and in a bad moment, it's beautiful to see.
UPDATE: In a statement shared with Elite Daily by email, a rep for Lovato says that the singer is awake. The statement reads,
"Demi is awake and with her family who want to express thanks to everyone for the love, prayers and support. Some of the information being reported is incorrect and they respectfully ask for privacy and not speculation as her health and recovery is the most important thing right now."
EARLIER: The Los Angeles Police Department confirmed to Us Weekly that emergency services had responded to a home in Hollywood shortly after 11:30 a.m. local time. According to People, Lovato was reportedly unconscious when emergency services arrived, and was revived with Narcan, an emergency drug that reverses the effects of opiates. As of 4 p.m. ET, she was reported to be in stable condition. A source also told People that the reported overdose was not heroin related, despite initial reports. Elite Daily reached out to representatives for Lovato for comment or confirmation on the reports of overdose and hospitalization, but did not immediately hear back.
But the reports alone have fans worried. After TMZ broke the news, fans took to social media to reassure their queen that she's in their thoughts and that they're sending her all the positivity they can. This may be a dark moment for Lovato, but at the very least she can hopefully take comfort in the love that's coming her way.
Even other celebrities reached out to share their love. Friends like Ellen DeGeneres and Ariana Grande also tweeted about Lovato and sent their support.
Lovato may be going through a hard time, but it's heartwarming to see that there's not a thought of judgment or shaming coming from her friends and fans — only love.
Lovato has spoken openly about her struggles with substance abuse, mental illness, and eating disorders. In her 2017 documentary Simply Complicated, Lovato opened up about the extent of her struggles, sharing how she hit her personal rock bottom at 19 and that her first stint in rehab wasn't successful. But since 2012, Lovato has been working on getting and staying clean, even celebrating six years of sobriety in March of 2018.
Recently, however, she admitted to relapsing. In late June, Lovato dropped her song "Sober," in which she admitted to falling back into her addiction. In the song, she apologizes to her parents and fans for not staying clean, singing,
Momma, I'm so sorry, I'm not sober anymore / And daddy, please forgive me for the drinks spilled on the floor / To the ones who never left me, we've been down this road before / I'm so sorry, I'm not sober anymore
Though this latest report is certainly scary, six years sober is still an achievement — and if she did it once, she can do it again. Come on, Demi. Your fans all have your back, and clearly, they have nothing but love in their hearts for you.
If you or someone you know needs help with substance abuse issues, you can reach out to the Substance Abuse and Mental Health Services Administration (SAMHSA) National Helpline at 1-800-662-HELP (4357).