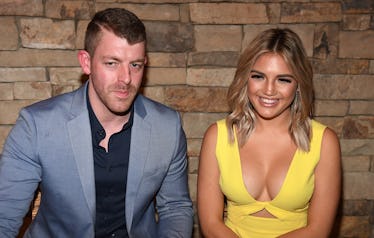 'Love Is Blind's Giannina & Damian Said The Most Intense Things About Their Love
Paras Griffin/Getty Images Entertainment/Getty Images
Of all the shocking twists woven into the Love is Blind finale, most fans would agree that watching a rejected bride sprint away from the altar (in sky-high heels, no less) was the most dramatic of all. Yet as it turns out, that heartbreaking scene wasn't the end of a love story. It was a new beginning. Giannina Gibelli and Damian Powers' quotes about each other not only prove they're back together, but they're intense AF.
In case you're still making your way through the thrilling reality series, after Gibelli says "I do" to Powers, but he says "I do not," causing her to flee the scene, the two later hash it out in person back at the wedding venue. They don't seem to leave on good terms, though: At the end of the conversation, Gibelli tears off a piece of her dress, hands it to Powers, and says, "You can have your bow back," ( a reference to his emotional proposal) before storming out.
If you were rooting for this controversial couple to reunite, however, don't fret — your wishes have been granted. In a Feb. 27 interview with Esquire, Gibelli dropped a slew of hints that she and Powers might have reconciled, and then in the March 5 Love is Blind reunion, the couple confirmed that speculation in a lovey-dovey interview with host Nick Lachey. Perhaps the most shocking aspect of their story is that they've been secretly dating ever since the shooting wrapped in November 2018.
Now that Gibelli and Powers have had the opportunity to fill fans in, let's review some of their astonishing comments on this new stage of their relationship, shall we?